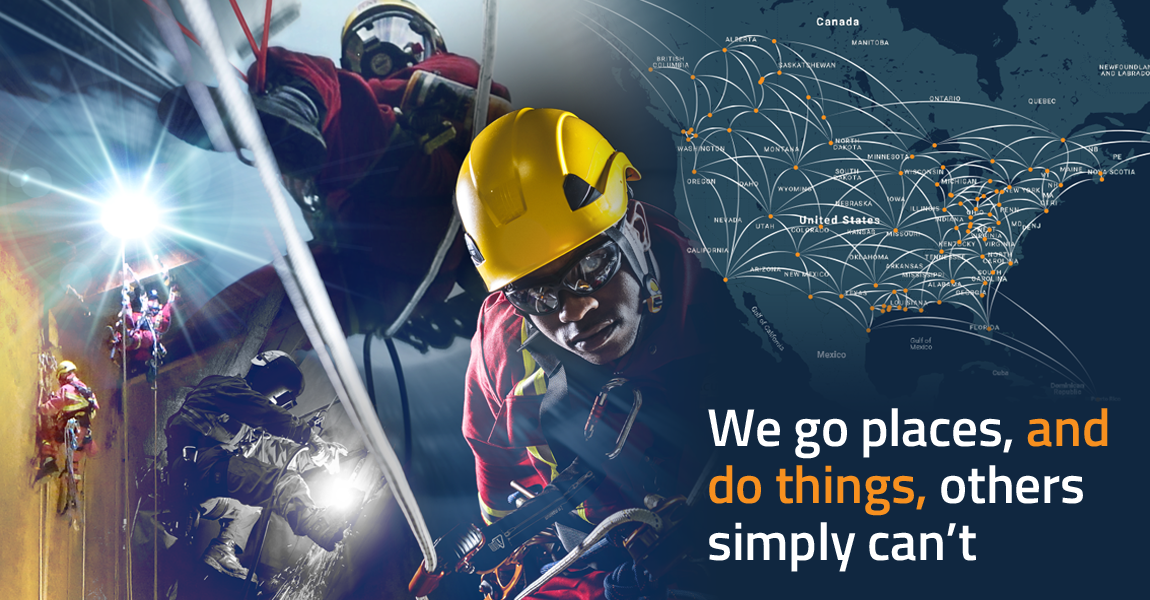 Industrial Services
Read our full range of services by downloading the complete Rope Access & Industrial Services brochure.
As customers continue efforts to improve resilience during a time of unpredictable commodity prices, they require maintenance contractors who understand this cycle and can provide evidence-based solutions to improve run time at their facilities, thereby improving efficiency and throughput.
Our composite crews of IRATA or SPRAT Certified tradespeople including electricians, insulators and pipefitters will reduce the reliance on expensive and bulky scaffolding. Our rope access personnel can quickly start and finish short-term maintenance projects, while reducing the total spend on a specific scope of work by not requiring scaffold be set up or taken down, and have maintenance completed in an expedient manner, reducing total downtime.
Integrated inspection and maintenance crews with rope access capabilities combine to be one of the most significant drivers of value resulting in reduced schedule, overhead and total cost.  We are a fully embedded contractor delivering both inspection and trades from ropes and have agreements with local trade organizations that allows us to deploy one crew with multiple trades who can support each other and deliver maximum efficiency.
Acuren has a deep pool of IRATA or SPRAT Certified tradespeople that can be dispatched for emergency work, while maintaining a base crew available on a full-time basis.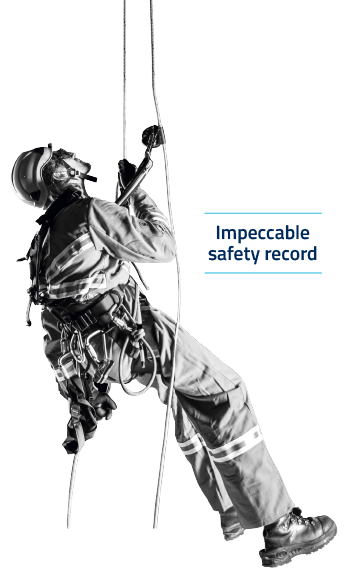 Please see videos of the following 2 complicated projects that were flawlessly executed by our Rope Access & Industrial Services teams:
Dribble Chute Replacement Using Rope Access
Surge Bin Wear Replacement Project Using Rope Access
Our capabilities include, but are not limited to, the following:
Electrical
Our teams can handle even the most complex electrical projects utilizing rope access, or other access methods. Some typical scopes of work include:
Inspection and testing – Line resistance testing, Insulation visual inspection
Terminations
Cable pulling
Cable tray inspection and repair
Electrical heat trace
Repairs – Electrical panels, Junction boxes, Lighting (ballasts and bulbs)
Insulation & Asbestos Abatement
Our insulation services, combined with our access solutions, engineering capabilities and scalable composite crews, have allowed us to provide clients with an unparalleled turnkey experience on a wide range of projects. Acuren has full industrial insulation capabilities. We have insulation technicians across many teams and geographical locations that work on a variety of projects including:
New installation, repairs and removal
Piping, vessels, columns and tank insulation and cladding
Utilidoor and tank panel systems
Refractory repair
Asbestos abatement
Fireproofing and firestopping
Fabrication
Fittings
Flange and valve covers (hard and soft)
Insulation systems
Welding / Pipefitting
Steam trace
Valves, PSV install, replacements
Structural and pressure
Vessels and tanks
Pipe spool replacement
Patches and repairs
Wear plates
Hoisting & Rigging
We can custom engineer hoisting systems that can be placed without cranes to execute lifts into very high and tight locations. Past projects have included flare tip replacements in congested spaces, where crane access would have compromised turnaround schedules, and pipe span replacements where crane reach limitations made the project otherwise impossible.
Flare and incinerator stacks (repairs, installations, and removals)
Heavy lifting and hoisting
Painting & Coating
Protective coating (internal and external surfaces of tanks, vessels, and structural steel)
Bristle blasting, sand blasting and vacuum blasting
Lead paint abatement
TSA – Thermal Spray Aluminium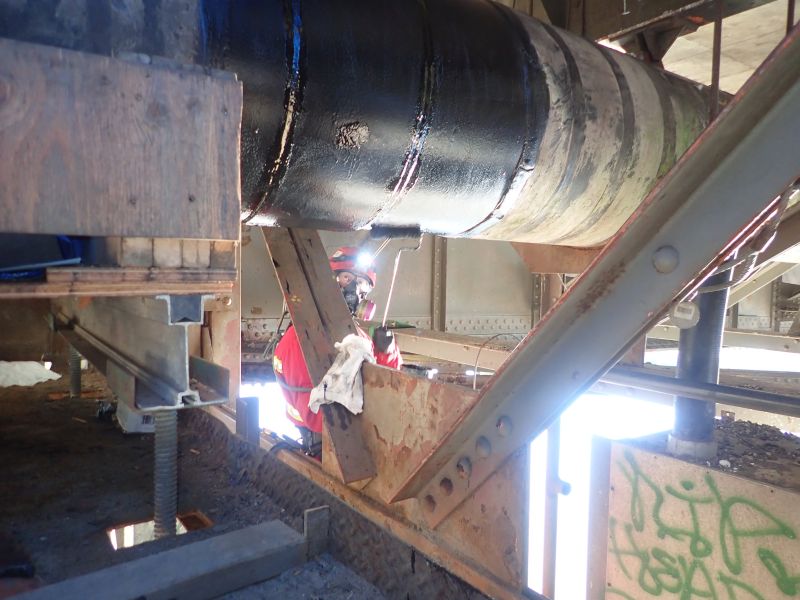 Installation, Removal & Replacement
Piping repairs, installation, and removal
Electrical installation
Metal cladding
Vessel and tank repairs
Flare tip replacement
Riser installation
Sprinkler heads
Bolt torqueing
Valve turning
Block and blinding
Heat treat
Spring cans
Spring hangers
Pipe hangers and clamps
Pipe supports, guides, shields and saddles
Certifications
National Board "R" Stamp – Repairs and Alterations to Pressure Vessels under NBIC/ASME
American Society of Mechanical Engineers "PP" Stamp – Fabrication and repair of pressure piping under ASME
Alberta Boilers Safety Association (ABSA) – Approved welding programs under ABSA and the Safety Codes Act
Canadian Welding Bureau (CWB) – Fabrication and repair of structures under CSA W47.1
Technical Safety Standards Association (TSSA) – Approved welding programs under CSA B51 and ASME
National Center for Construction Education and Research (NCCER) – Repairs and alterations to insulation
NACE International – Application of corrosion protection coatings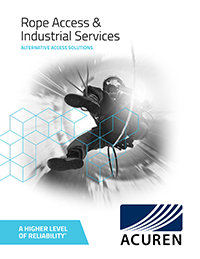 Reach out to our team of rope access and industrial services specialists, by calling 1-800-218-7450 or email. Find out how we can help execute your scopes of work because we go places, and do things others simply can't.
Additional Services
Engineering
Acuren's world-class teams of over 100 engineers have extensive experience both in the field and in our laboratories to provide a higher level of reliability.
Inspection
Acuren offers you an unrivaled spectrum of traditional and advanced nondestructive testing and NDE methods to ensure cost-effective and accurate inspection results.
Success Stories
Reliability Engineering Services Delivers Cost Savings
Richardson Oilseed is one of Canada's oldest and largest fully-integrated crushing, refining, processing and packaging operations. In the absence of timely manufacturer support for a critical equipment issue, the full time onsite Acuren Condition Monitoring Specialist was able to diagnose and provide a detailed correction path on a defective trunion bearing.
Ropes Team Saves Thousands on Pump Box Work
During a planned outage ultrasonic testing and visual inspection revealed that a significant portion of the pump box floor either needed to be repaired, or cut out and replaced.
Related Industries
Oil & Gas
You can trust the skilled professionals at Acuren to offer highly specialized talent and expert services to refining, extraction, and petrochemical industrial clients.
Chemical
Acuren's inspection programs for chemical plants lower the risk of asset failure and support the overall safety and productivity of your operations.
Building & Infrastructure
Structural design engineers, inspectors, nondestructive testing technicians, laboratory technologists and rope access technicians deliver solutions to help you design, construct and maintain your buildings and valuable infrastructure.