Supporting the North American Hydrogen Industry
The Future of Hydrogen
The hydrogen industry is becoming increasingly important due to the growing global demand for clean energy and the need to reduce greenhouse gas emissions. Hydrogen is a versatile energy carrier that can be produced from a variety of sources, including renewable sources such as wind and solar power, as well as natural gas and other fossil fuels.
While hydrogen is a clean and versatile energy carrier, it does pose some potential dangers that must be carefully managed. Hydrogen damage can occur in a variety of ways, but a common form is hydrogen embrittlement, which is the result of hydrogen atoms diffusing into the metal lattice of a material and causing it to become brittle and prone to cracking or failure. Hydrogen embrittlement can occur during the manufacturing process, during storage, or during use of materials in hydrogen environments.
To prevent hydrogen damage, materials and components must be designed and manufactured to withstand the effects of hydrogen exposure. This can involve using materials that are less prone to hydrogen embrittlement, applying protective coatings or barriers to prevent hydrogen diffusion, or using nondestructive testing techniques to detect hydrogen damage before it leads to failure.
Engineering Services
Engineering Services
Acuren's team of dedicated professional engineers has extensive experience working in the refinery, facility and pipeline realms, which all play a role in the hydrogen industry's present and future. This includes a large team of materials engineers who have investigated a wide array of failures attributed to hydrogen related damage mechanisms such as hydrogen induced cracking (HIC), hydrogen embrittlement (HE) and high-temperature hydrogen attack (HTHA), among many others.
Our engineering experts can help you understand hydrogen and its effects on your equipment, and aid in selecting materials that are suitable for use in hydrogen containing environments.
Our engineering services also include pressure/burst testing capabilities, pipeline evaluations, engineering critical assessments, fitness for service assessments and finite element analysis that can help you make informed decisions regarding the use and future of your equipment.
Laboratory Testing
Laboratory Testing
Acuren has a network of material testing laboratories across North America that can support your routine and research-based testing needs. This includes standard offerings such as chemical analysis, tensile testing (including elevated temperature testing), Charpy impact testing, bend testing and hardness testing to help ensure new materials meet all required specifications and confirmation of the material properties of existing assets.
More advanced materials testing/characterization capabilities such as crack tip opening displacement (CTOD) testing and hydrogen embrittlement testing of threaded fasteners, and HIC testing for various components are also offered.
Our labs are ISO 17025 accredited and backed by our materials engineering experts so that you can always have confidence in your testing results.
Visual Inspection
Visual Inspection
Acuren inspectors can aid with hydrogen equipment any stage of the asset lifecycle. Acuren inspectors can act as Owners Inspectors or QA/QC during new construction projects to ensure compliance with applicable codes/standards, specifications, and regulations.
Visual inspectors are responsible for inspecting hydrogen infrastructure, to ensure that they are in good condition and free from defects or damage. Our inspectors are experienced with hydrogen damage mechanisms; they know where to look and what technologies to deploy. We can create inspection plans to ensure your equipment will be inspected thoroughly, both on-stream and during maintenance outages.
Nondestructive Testing (NDT)
Nondestructive Testing (NDT)
Nondestructive Testing (NDT) techniques play a critical role in the acceptance of new construction, fabrication and installation of assets as well as detection of in-service damage in the hydrogen industry. Starting with basic methods and progressing to advanced techniques, NDT helps identify early-stages of hydrogen damage to ensure the safe and efficient operation of hydrogen assets.
The synopsis outlines the evolution of NDT techniques in the hydrogen industry, from conventional methods to advanced ultrasonic techniques for early-stage HTHA detection.
Conventional Methods: Basic NDT techniques, such as visual inspection, magnetic particle testing, and liquid penetrant testing, are commonly used to detect surface-level damage in hydrogen-related equipment, such as pipelines, vessels, and valves. These methods are simple and cost-effective but are limited to surface defects and may not be suitable for detecting internal or subsurface damage.
Radiographic Testing (RT): RT is a widely used NDT technique in the hydrogen industry that involves the use of X-rays or gamma rays to penetrate materials and detect internal defects. RT is effective in identifying volumetric defects, such as cracks, voids, and inclusions, and provides detailed images for further analysis. However, it requires the use of radioactive sources, specialized equipment, and trained personnel, making it more complex and costly compared to conventional methods.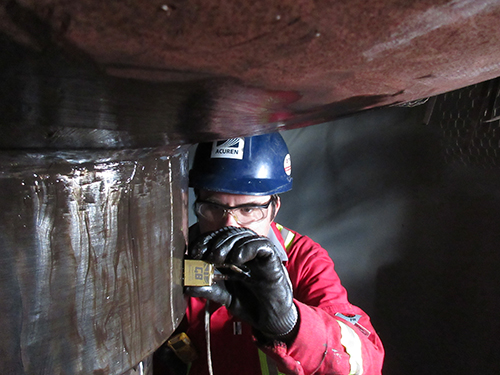 Ultrasonic Testing (UT): UT is a versatile NDT technique that uses high-frequency sound waves to detect internal and subsurface defects in hydrogen-related components. UT can be used to measure wall thickness, detect cracks, and identify other types of damage, including HTHA. Advanced UT techniques, such as phased array ultrasonic testing (PAUT) and time-of-flight diffraction (TOFD), provide higher resolution and faster inspection capabilities, making them suitable for detecting early-stage HTHA in high-temperature hydrogen environments.
Eddy Current Testing (ECT): ECT uses electromagnetic induction to detect surface and near-surface defects in conductive materials. ECT is particularly useful in detecting corrosion-related damage, stress corrosion cracking (SCC), in hydrogen-related equipment. ECT is fast, reliable, and does not require the use of radiation, making it a preferred method for in-service inspections.
Advanced Ultrasonic Techniques for Early Stage Hydrogen-Induced Cracking (HIC) and HTHA Detection: Advanced ultrasonic techniques such as Phase Coherence Imaging (PCI), Total Focus Method (TFM), Full Matric Capture (FMC) Time of flight diffraction (ToFD), velocity ratio measurement and Phased Array Ultrasonic testing (PAUT), are emerging as effective methods for early-stage HTHA detection in the hydrogen industry. PAUT uses multiple ultrasonic elements to generate and receive beams at different angles, providing detailed images and accurate defect sizing. These advanced techniques offer increased sensitivity and reliability in detecting early-stage HTHA, which is critical in preventing catastrophic failures in high-temperature hydrogen environments.
NDT techniques are vital for detecting in-service damage in the hydrogen industry. Starting with basic methods and progressing to advanced techniques, such as advanced ultrasonic techniques for early-stage HTHA detection, NDT ensures the safe and efficient operation of hydrogen-related infrastructure by identifying defects and damage before they become critical issues.
Remote Inspection Capabilities
Remote Inspection Capabilities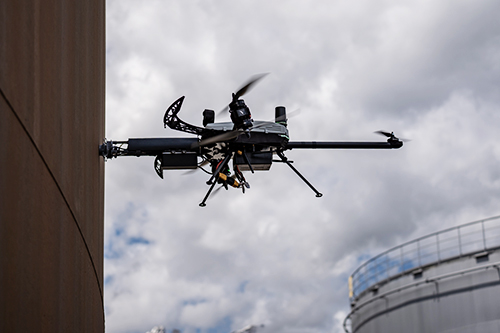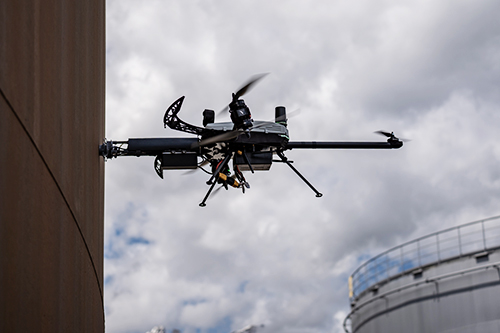 Performing tank inspection using Voliro drone
Drones and robots can be used to inspect and monitor hydrogen infrastructure, such as pipelines, storage tanks, and other equipment. They can quickly and safely access hard-to-reach areas, reducing the need for human inspections in hazardous environments.
Acuren has a robust Remotely Piloted Arial Systems (RPAS) program. Our drones can perform a multitude of tasks including: remote visual inspection, infrared thermography, aerial ultrasonic thickness testing, fugitive emissions detection, and more.
Acuren Operators are experienced in various remote visual inspection methods including: robotic vehicular inspections, videoscopes, push and pan-tilt cameras, robotic crawlers, submersible ROV's, quadrupled robots, and more.
Alternative Access & Industrial Solutions
Alternative Access & Industrial Solutions
Acuren is the leading provider in North America for providing rope access and integrated industrial solutions. Rope access is a cost-effective option for hydrogen facilities due to a reduction in headcount of workers, reduced schedule and delays and reduced equipment downtime.
The majority of the NDE techniques and visual inspection can be performed with alternative access methods, in addition to the industrial services below.
---
An Innovative Toolbox of Services
Insulation
Inspection
Electrical
Pipe Fitting
Welding
CS Entry
Tank Repairs
Ops Assist
Steam Trace Repairs
Alternative Access
Blasting & Coating
Rescue
---
---
An Innovative Toolbox of Services
Insulation
Inspection
Electrical
Pipe Fitting
Welding
CS Entry
Tank Repairs
Ops Assist
Steam Trace Repairs
Alternative Access
Blasting & Coating
Rescue
---
The latest innovative solution for alternative access is V-Deck™ Suspended Platforms which provide an additional method to access hard to reach areas, eliminating the need for large tower scaffold builds. Our V-deck solution can be used for a variety of applications, including access platforms, walkways, accessing under bridges.
Rope Access and V-deck systems are designed to improve safety in hydrogen facilities by reducing the potential for falls, dropped objects, and exposure hours of workers.
V-Deck™ is a modular temporary suspended work platform that provides a strong and stable work platform. It is designed to withstand high wind and water wind forces, making it suitable for a wide variety of work locations. It is a lightweight and ergonomic solution.
It has been used widely globally in a variety of sectors including Civil Infrastructure; Oil & Gas; Power Generation and Shipping. Velo Tech Systems provides product training, and design & engineering. We work closely with clients, offering all the support they need to be successful with the V-Deck™.
Compared to tube and fit scaffold, V-Deck™ delivers:
Up to 88% Time Savings
5 x Lighter
75% Less Volume
100% Less Contact Points
80% Reduction in Component Parts
Higher Factor of Safety (4:1)
Rope Access Industrial Services
WHY ACUREN?
A fully integrated approach, combining engineering, inspection, NDE, industrial trades and rope access services. Acuren leads the industry as the one true supplier that can be the single turnkey vendor to support the Hydrogen Industry.
Acuren innovation, advanced applications, and cutting-edge inspection solutions result in significant cost savings, reducing unnecessary mechanical scopes (insulation stripping only where required), saving precious time and reducing material waste while limiting exposure to potential hazards.
Leading provider of robust programs, founded in sound engineering practice through unparalleled industry knowledge, leveraging decades of experience.
Rigorous training and competency programs for personnel.
Diagnose the root cause, not the symptoms.
Design the right program and tools for the application
Acuren Offers Unparalleled Support for the Hydrogen Industry
We provide a wide array of services to provide quality support for our clients in the hydrogen industry From research and development to engineering services and drone access, we have advanced capabilities to help our clients reduce costs and improve efficiency unlike any other. Contact us online to get in touch with an Acuren representative about our services, or call us at 1-800-218-7450.