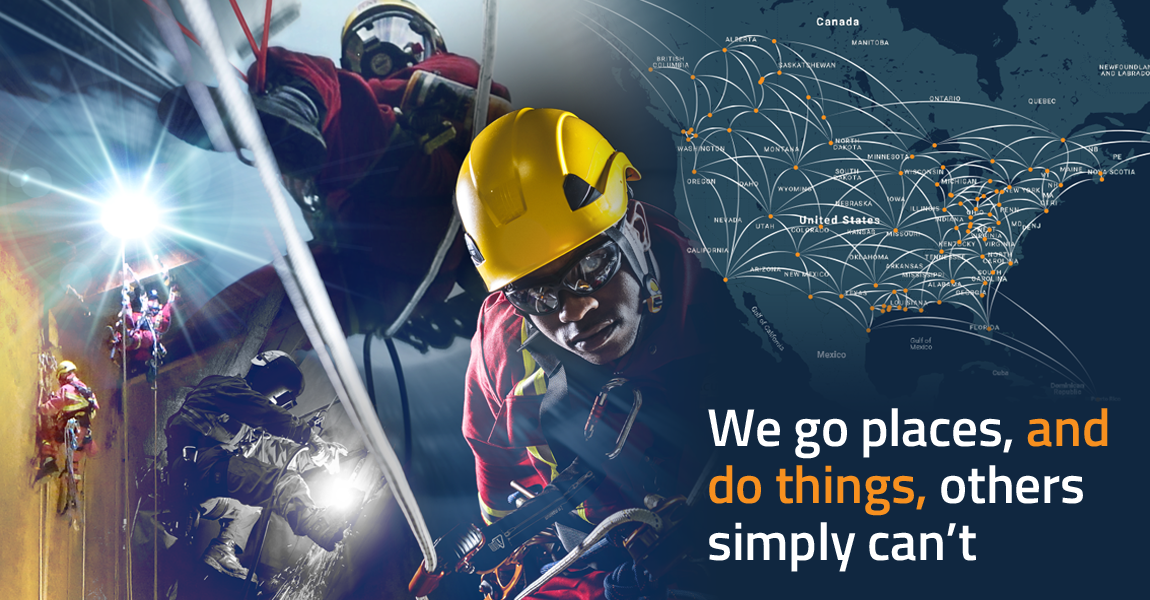 Rope Access Inspection Services
Facilities such as power plants, refineries, mines, chemical plants and LNG facilities require routine inspections to guarantee they're in top condition. Rope access services offer an innovative strategy where technicians use a harness and a system of ropes to conveniently evaluate these locations. Equipment is installed and uninstalled efficiently, allowing professionals to tackle projects quickly and with little interruption to plant operations. This method reduces overall project, material and labor costs compared to traditional scaffolding methods.
Achieve the highest level of "Execution Efficiency" with our rope access inspection company by your side. Acuren is a pioneer within this industry, utilizing an integrated rope access model that prioritizes a rapid and practical inspection project at height to maximize cost savings. Our team has the expertise to deliver various scopes of work and be a long-term partner you can count on. We go to places and do things others simply can't.
The Acuren Advantage
Hard-to-reach areas are a thing of the past with Acuren by your side. Our specialists are skilled at accessing remote areas of industrial plants, tall buildings and other large structures while providing our clients with millions of dollars in savings annually. These capabilities come from our time as one of North America's longest-standing rope access services, with over 20 years spent serving these needs.
We've been an industry-leading organization for decades, first finding our footing as an original member of the Industrial Rope Access Trade Association, formed in the 1980s. Many of our professionals are also certified by the Society of Professional Rope Access Technicians — an organization committed to paving the way for top-of-the-line safety practices.
Our team continues to innovate and propel our service offerings toward the future. Using an integrated service model and leveraging the knowledge of over 100 engineers and 4,000 field professionals, we strive to provide clients with faster and more complete solutions at height. We have the expertise to offer custom solutions that align with strict compliance standards for a service safer than most scaffold and lift applications.
When you work with Acuren to satisfy your rope access NDT and inspection needs, you can rest easy knowing you're working with the best.
Our Rope Access Inspection Services

Our highly skilled professionals drive our services forward and are committed to supplying your organization with rope access inspection services you can trust. We maintain a spotless safety record upheld by using state-of-the-art technologies and access to innovative optimization tactics. Our comprehensive project management service team oversees every project, ensuring a reliable and cost-effective operation.
Our team operates out of 80 locations across North America, allowing us to extend our expertise to your pipeline, industrial site or laboratory, no matter where you're located. In many situations, we can complete our inspections within hours without shutting your plant down — avoiding delays, downtime and additional expenses.
We provide various inspection services for machinery and hardware like tanks, concrete stacks, refractories, flare tips, coal bunkers and heaters. Our full suite of industrial rope access inspection services includes:
Equipment and asset inspection
Quality assurance
Remote inspection
Quality control
Spring cans
Spring hangers
Pipe hangers and clamps
Pipe supports, guides, shields and saddles
In-situ metallography
Partner With an Industry Leader Today
Choose Acuren's rope access inspection services to deliver efficient and economic advantages to your site. We have decades of experience working within numerous industries, such as aerospace, automobile, energy, pipeline, oil and gas, and manufacturing. Our team operates with extreme attention to detail to create a custom strategy to quickly complete tasks with minimal risk.
Contact us online to get in touch with your representative and learn how Acuren can optimize your current inspection strategies.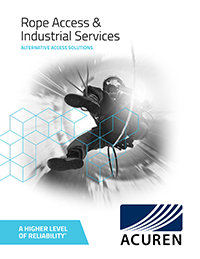 Additional Services
Engineering
Acuren's world-class teams of over 100 engineers have extensive experience both in the field and in our laboratories to provide a higher level of reliability.
Inspection
Acuren offers you an unrivaled spectrum of traditional and advanced nondestructive testing and NDE methods to ensure cost-effective and accurate inspection results.
Success Stories
Reliability Engineering Services Delivers Cost Savings
Richardson Oilseed is one of Canada's oldest and largest fully-integrated crushing, refining, processing and packaging operations. In the absence of timely manufacturer support for a critical equipment issue, the full time onsite Acuren Condition Monitoring Specialist was able to diagnose and provide a detailed correction path on a defective trunion bearing.
Ropes Team Saves Thousands on Pump Box Work
During a planned outage ultrasonic testing and visual inspection revealed that a significant portion of the pump box floor either needed to be repaired, or cut out and replaced.
Related Industries
Oil & Gas
You can trust the skilled professionals at Acuren to offer highly specialized talent and expert services to refining, extraction, and petrochemical industrial clients.
Chemical
Acuren's inspection programs for chemical plants lower the risk of asset failure and support the overall safety and productivity of your operations.
Building & Infrastructure
Structural design engineers, inspectors, nondestructive testing technicians, laboratory technologists and rope access technicians deliver solutions to help you design, construct and maintain your buildings and valuable infrastructure.