Pulp & Paper
Our technically skilled and experienced staff of over 5000 technicians, engineers and managers deliver solutions to ensure operations run smoothly and safely. We leverage our 40 years of experience to choose the right technology and personnel for each job, ensuring cost-effective, reliable inspection results.
Acuren understands equipment damage mechanisms and the effects of process changes on existing equipment as well as anyone in the business. Our engineers have been technical leaders in TAPPI, involved in American Forest and Paper Association (AF&PA) and Black Liquor Recovery Boiler Advisory Committee (BLRBAC) committee work for over 20 years, and have either written or actively contributed to most of the industry-standard TIPS published by the Corrosion and Materials Engineering Committee of TAPPI.
Acuren provides innovative solutions to avoid expensive unplanned shutdowns.
Pulp and paper processes involve high temperature, high pressure, corrosive environments, and high-speed rotating equipment to convert wood to pulp to paper. To maintain efficient, safe, and economical operations, maintenance shutdowns are scheduled. At these times, Acuren's teamwork, knowledge, and efficiency can be an essential part of evaluating critical assets such as boilers, digesters, piping, tanks, pressure vessels, and rotating equipment.
Our project managers and engineers have worked with clients in most pulp and paper mills in North America.  They will act in any capacity as part of your team to help develop safe, cost-effective, and efficient inspection plans. Our specialists understand the complexities of running large jobs on tight timetables and are experienced in integrating nondestructive testing crews with plant maintenance operations.  If your project requires an advanced skill such as an experienced eddy current technician, a corrosion engineer, heat treat or stress relief on site, or a rope access technician for work at heights, Acuren will ensure your schedule is met and quality, affordable results are achieved.
Beyond the range of traditional nondestructive testing services, Acuren offers National Board certified inspectors and engineers, mechanical integrity (compliance to PSM), reliability engineering including vibration analysis and laser scanning, Risk Based Inspection (RBI), owner-user integrity management systems, project and turnaround nondestructive testing supervision (i.e., administration, safety/quality, planning/scheduling) and audit services. Our engineers are leaders in welding, corrosion, Fitness for Service, Finite Element Analysis, failure analysis, and off-shore quality assurance for the pulp and paper industry.
Pulp & Paper Mill Inspection Services
Piping, Vessels and Tank Inspections
Power Boiler Inspections, High Energy Piping and FAC Surveys
Recovery Boiler Inspection and Analysis
Digester and Ancillary Vessel Inspections
Phased Array UT of Boiler Tube welds
Evaporator Effect Train Inspections
Ultrasonic Thickness and Examinations of Welds, Forgings, Castings
Paper Machine Components, Dryer Cans, Suction and Couch Rolls Recovery
Advanced crack sizing using Phased Array UT, TOFD
Corrosion Mapping – Internal/External
Stress-Corrosion Cracking Detection, Sizing and Monitoring
Third Party Inspection, NDE Review/Auditing of Repairs and Construction projects
RELATED SERVICES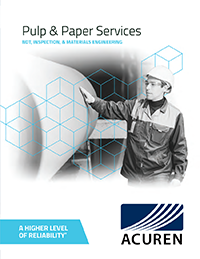 Our Services
Engineering
Acuren's world-class teams of over 100 engineers have extensive experience both in the field and in our laboratories to provide a higher level of reliability.
Inspection
Acuren offers you an unrivaled spectrum of traditional and advanced nondestructive testing and NDE methods to ensure cost-effective and accurate inspection results.
Rope Access Industrial Services
Acuren provides integrated industrial services including inspection, repair and maintenance via rope access using composite crews with multi-disciplined trades, experienced personnel, IRATA certified technicians, and customized access optimization programs.
Success Stories
Reliability Engineering Services Delivers Cost Savings
Richardson Oilseed is one of Canada's oldest and largest fully-integrated crushing, refining, processing and packaging operations. In the absence of timely manufacturer support for a critical equipment issue, the full time onsite Acuren Condition Monitoring Specialist was able to diagnose and provide a detailed correction path on a defective trunion bearing.
Ropes Team Saves Thousands on Pump Box Work
During a planned outage ultrasonic testing and visual inspection revealed that a significant portion of the pump box floor either needed to be repaired, or cut out and replaced.
About Acuren
Safety
We believe all incidents are preventable and that every employee has both a right and an obligation to support safe operations. Our commitment to safety is fundamental to our operations – with management oversight and ongoing training supported by unrelenting discipline.
Quality
Our Quality Management System (QMS) ensures that our activities consistently meet both customer and regulatory requirements, with a focus on continuous improvement.
Vision & Values
Safety, integrity, ownership, and innovation. The Acuren values are central to our success, and to yours.