Materials Testing & Lab Services
Metallic and non-metallic materials can be analyzed for chemical composition, microstructure, material properties, corrosion resistance, and environmental stability. Materials testing allows us to make proactive recommendations to reduce risk and failure, and to help to identify manufacturing materials for longer lifecycles and safer processes.
At Acuren, we have designated centers of expertise for conducting specialized testing such as NACE (National Association of Corrosion Engineers) sour service testing on oil field parts, long-term fatigue tests, and accelerated aging testing on automotive plastic components.
Our in-house machine shops provide quick and accurate specimen preparation for all laboratory tests. Our technical libraries contain an extensive collection of materials standards, both current and historical, for evaluating test results. Our extensive professional engineering experience is supported by our NADCAP and ISO/IEC 17025 accredited in-house laboratory facilities.
Our materials testing capabilities include:
Chemical Analysis
Specification Compliance
Identification of Unknown Materials
Alloy Sorting
Corrosion Testing – as per ASTM and NACE standards
Accelerated Corrosion Assessment
Corrosion & Environmental Testing (including salt spray coating testing)
Mechanical Testing
Tensile Testing – including elevated temperature – up to 1,780 kN (400,000 lbf)
Charpy Impact Testing
Fracture Toughness Testing (CTOD)
Weld Procedure Testing – as per ASME, CSA, CWB, AWS, ASTM
Valve Certification as per API and ANSE
Metallurgical Evaluation & Metallography
Weld Procedure & Qualification Testing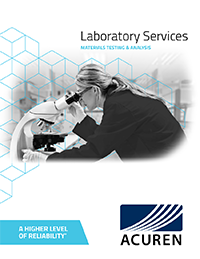 Addition Services
Inspection
Acuren offers you an unrivaled spectrum of traditional and advanced nondestructive testing and NDE methods to ensure cost-effective and accurate inspection results.
Rope Access & Integrated Services
Acuren provides integrated services including inspection, repair and maintenance via rope acess using composite crews with multi-disciplined trades, experienced personnel, IRATA certified technicians, and customized access optimization programs.
Success Stories
Monthly Maintenance Contract Pays Dividends
Each month Acuren Condition Based Monitoring Specialists collect machinery vibration and structure borne ultrasonic data as part of the regular condition monitoring program at Irving Wallboard.
Ropes Team Saves Thousands on Pump Box Work
During a planned outage ultrasonic testing and visual inspection revealed that a significant portion of the pump box floor either needed to be repaired, or cut out and replaced.
Related Industries
Automobile
Our experts accurately identify material and subsurface part defects so you can avoid costly failures and product recalls. Our high volume automotive labs calculate inspection times in seconds rather than days, saving our clients time and money.
Pipeline
Our dedicated service line approach for Pipeline Services ensures both high level customer care, and efficient management of resources and technology.
Tanks
Acuren has the equipment and certified professionals ready to efficiently carry out comprehensive API and non-API tank inspections and can inspect any tank, of any material or size, including large diameter, small diameter, vertical and horizontal tanks.