Acuren provides state-of-the-art nondestructive testing, inspection, engineering and rope access integrated services delivered through over 90 locations and over 4,000 employees throughout North America and the United Kingdom.
A market leader in structural integrity testing and solutions
Committed to delivering a higher level of reliability, Acuren provides an unrivaled spectrum of services to support the safe operation of industrial assets. Our services include conventional and advanced nondestructive testing and examination (NDT & NDE), inspection, engineering, rope access enabled services (industrial services and NDT) and condition based monitoring services. Our commitment to innovation is ongoing, as is our development of programs to support the integrity of your assets and to significantly lower your costs of operation.
We are pleased to serve many of the largest and most sophisticated industrial firms in the world – with clients in the refinery, chemical, pipeline, storage tank, power generation (fossil, nuclear and wind), pulp & paper, aerospace, automotive, and pharmaceutical industries.
Local professionals with global resources
Our formula for success is straightforward: be highly capable locally, with certified, well-trained and well-equipped personnel supported by trained, experienced leaders.
We support our local teams with subject matter experts in engineering, rope access, and advanced inspection methods and technologies. Our field engineers and technicians have ready access to the resources required to solve complex customer problems in real time, providing a higher level of reliability at a lower overall cost.
Local competence is further supported by a corporate commitment to exceptional service, with subject-matter experts, management systems, and best-in-class technology to assure that the efforts provided locally also represent the best methods globally.
Committed to quality assurance
Acuren's commitment to safety, quality and professionalism spans four decades. Our commitment to improvement is ongoing and core to our culture. We strive for incident free work environments and continuous service improvement. Our commitment to safety and quality assurance is evidenced through our industry certifications and our strict adherence to industry standards.
Learn more about our quality programs here
Rope access advantage
Acuren has led the delivery of rope access services to industry for over twenty years. The savings provided by rope access delivery are well recognized, and monthly result in millions of dollars of savings versus conventional alternatives. Acuren is the first, and longest standing, full member of the Industrial Rope Access Trade Association (IRATA), as well as the largest rope access service provider in North America. Our expertise is well established – and our delivery of bespoke solutions at height and to difficult-to-access areas provide both savings in time and cost.
Safe delivery of our rope access program is paramount. Our rope access work has rigorous audited compliance standards and is now recognized as safer than traditional access means, such as scaffolding and lifts.
Learn more about our rope access services here
The Acuren Advantage
Working with Acuren provides specific advantages for our customers:
Turnkey integrity solutions for the full asset lifecycle
Deep collective knowledge built on decades of experience
Industry leading access options including rope access and scaffold
Cross-functional integrated industrial service teams with multi-ticketed members
Benchmarked cost reduction programs that lower client's cost to operate
Local presence with national scale and extensive 80 location footprint
Advanced technologies for any inspection challenge
Collaborative service approach combining over 100 engineers with over 4000 field staff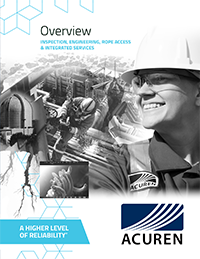 Our Services
Engineering
Acuren's world-class teams of over 100 engineers have extensive experience both in the field and in our laboratories to provide a higher level of reliability.
Inspection
Acuren offers you an unrivaled spectrum of traditional and advanced nondestructive testing and NDE methods to ensure cost-effective and accurate inspection results.
Rope Access Industrial Services
Acuren provides integrated industrial services including inspection, repair and maintenance via rope access using composite crews with multi-disciplined trades, experienced personnel, IRATA certified technicians, and customized access optimization programs.
Success Stories
Monthly Maintenance Contract Pays Dividends
Each month Acuren Condition Based Monitoring Specialists collect machinery vibration and structure borne ultrasonic data as part of the regular condition monitoring program at Irving Wallboard.
Ropes Team Saves Thousands on Pump Box Work
During a planned outage ultrasonic testing and visual inspection revealed that a significant portion of the pump box floor either needed to be repaired, or cut out and replaced.
Careers
Join the Acuren Team
Acuren is the largest inspection services company of its kind with exciting career positions throughout North America. A career with Acuren lets you train and work with some of the foremost leaders and innovators in NDT, inspection, engineering and industrial services.