Nuclear Power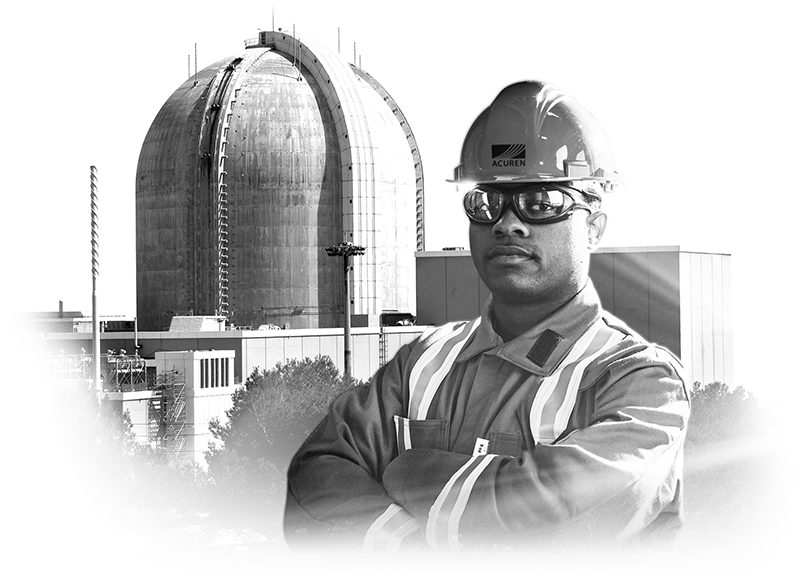 Our CSA N285.0 and CSA N299.1 certifications make Acuren Nulcear a single source provider of technology enabled asset protection and inspection solutions to nuclear utilities and its supply chain.
Acuren provides world class NDT, inspection, engineering and rope access enabled maintenance and construction services, delivered from 90 locations and utilizing over 4,000 employees across North America.
Acuren Nuclear Services is a distinct entity under the industry leading Acuren brand and is focused on the provision of inspection services and engineered solutions to nuclear utilities, constructors and equipment fabricators. Our services include project management, quality oversight, NDE tooling innovation, design, fabrication and deployment, field inspection execution and inspection engineering. Our unique internal supply chain, technical capabilities, and industry knowledge enables us to execute projects more effectively than other providers while maintaining or exceeding the expected project performance, quality and safety requirements.
Our CSA N285.0 and CSA N299.1 programs allow Acuren Nuclear Services to act uniquely as a direct single source provider of technology enabled asset protection and inspection solutions to nuclear utilities and its supply chain. With over four decades of experience in the nuclear industry, ANS has professionals in areas of Project Management, Project Controls, Quality and Safety programs to execute large capital projects or programmatic maintenance regimens.
Our Certifications
ISO 17025:2017 (Acuren Laboratory)
Reliability Engineering
Remote and/or on-site asset monitoring
Uncover root cause of failures with advanced diagnostics
Structural evaluation and corrective services
Condition monitoring

Vibration analysis and advanced diagnostics
Motor Current Evaluation (MCE)
Ultrasound and infrared
Oil analysis

Dynamic and static asset management
Structural integrity
Life cycle assessment and field services
Materials Engineering
Failure and chemical analysis
Weld qualification and weld process qualification
In-situ metallography
Full ISO 17025 lab services certified by A2LA
Tooling & Inspection
Tooling qualification and development

Design and manufacture
Inspection system qualification
Inspection personnel qualification
Inspection procedure qualification

Maintenance work management programs

API compliant repairs and inspections
Standby generator storage fuel tanks

Laser mapping

Long range (as built/left, correct component verification, training)
Short range (fit-ups, designs, conditions)

Ground penetrating radar

Location of buried services
Our Programs & Services
Non-Destructive Testing Services
Work package specific programs (managed task)
Conventional (MT, PT, RT, UT, ET)
Advanced applications (PAUT, TOFD, Digital/Comp RT, GPR)
Visual inspections (CWB, CSA)
API storage tank and piping (certification)
Project Management & Controls
Acuren Nuclear Services can provide project management, responsible for executing a single project; or as a program manager, with overall responsibility for complex programs. Our model is based on industry standards and operation experience (OPEX) with functional disciplines and departments. Our Project Management Office possesses highly specialized, certified and experienced nuclear professionals including project managers, project control technicians and cost schedule analysts that can execute large and small scopes of work. Our project teams have a reputation of acute emphasis on scope and cost control and ensure that every project is executed with precision in order to meet budget and timeline expectations. Our confidence in the functionality of our internal Project Work Management Program enables us to stand behind our project performance with contractual performance guarantees.
Procurement
PMP
Construction management
Project controls (in line with station work management systems)
Scheduling, resource loading, Critical Path Method (CPM)
Primavera P6 intelligent software
Inspection Programs
Repeatable analysis is an essential outcome; therefore, PAUT analysts are certified to both CGSB Ultrasonic Level 2, CSWIP/PCN EN473 in PAUT as well as qualified to the inspection program requirements. Additionally, the analysis process and inspection data management is designed to encompass construction parameters to ensure data artifacts will result in repeatable analysis reporting in line with code and technical specification requirements demonstrated in the technical justification. Acuren Nuclear Services has gained extensive experience completing inspection campaigns. We understand that in addition to qualified inspection processes it is paramount that an experienced program team dedicate equal time to initiating, planning, executing, and closing out the project.
A typical inspection program consists of:
Project managers
Planners
CSA's
Results coordinators
Supervisors
Data management system

Process control for human performance
Component based architecture for correct component verification
Role based accessibility and controlled qualification of task
Ensured adherence to procedure
Audibility
Data inputs (designed for mineable metrics to drive continual improvement and statistical analysis)
Performance

Engineering

Weld engineer
Results coordination and reporting

Quality

Quality control review and sign-off
Inspection test plan and traveler process
Performance statistics and LEAN methods for process improvement
Document control (digital and physical work package)

Training and qualification program for feeder weld analysts (primary/secondary/resolution)

Accepted feeder weld analysis procedures and project documentation (plans and ITP)

Large pool of inspection personnel
Engineering, Procurement and Contruction (EPC)
We offer fully integrated engineering, procurement, and construction services in addition to project and construction management. By providing these services to our customers, we can help them significantly decrease risk, ensure performance, and improve the overall transition into operations.
Engineering and Design
We perform traditional and advanced engineering, as well as detailed design for diverse clients worldwide.
Procurement
We promote project cost controls and schedule certainty by managing the purchase and delivery of materials required for clients worldwide.
Fabrication
We have the capabilities to provide, self-perform and subcontract fabrication solutions to meet client's needs. With over four decades of experience in the nuclear industry, we have the quality programs and certifications to execute large capital projects or intimate scopes of work.
Construction
We have experience using proven construction technologies and systems to meet clients' demands.
Maintenance
Acuren Nuclear Services can provide Operations and Maintenance (O&M) services to domestic and international clients to meet the needs of today's challenges.
Project Management
Acuren Nuclear Services can provide project management, responsible for executing a single project; or as a program manager, with overall responsibility for complex programs.
Safety & Quality
Acuren Nuclear Services is built upon values of excellence and integrity. We work to the highest standards and being measured by the quality of execution within our projects. Year after year we are among the safest companies in our industry.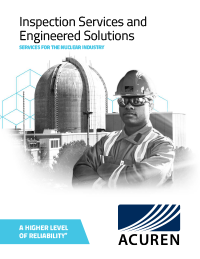 Our Services
Engineering
Acuren's world-class teams of over 100 engineers have extensive experience both in the field and in our laboratories to provide a higher level of reliability.
Inspection
Acuren offers you an unrivaled spectrum of traditional and advanced nondestructive testing and NDE methods to ensure cost-effective and accurate inspection results.
Rope Access Industrial Services
Acuren provides integrated industrial services including inspection, repair and maintenance via rope access using composite crews with multi-disciplined trades, experienced personnel, IRATA certified technicians, and customized access optimization programs.
Success Stories
Reliability Engineering Services Delivers Cost Savings
Richardson Oilseed is one of Canada's oldest and largest fully-integrated crushing, refining, processing and packaging operations. In the absence of timely manufacturer support for a critical equipment issue, the full time onsite Acuren Condition Monitoring Specialist was able to diagnose and provide a detailed correction path on a defective trunion bearing.
Ropes Team Saves Thousands on Pump Box Work
During a planned outage ultrasonic testing and visual inspection revealed that a significant portion of the pump box floor either needed to be repaired, or cut out and replaced.
About Acuren
Safety
We believe all incidents are preventable and that every employee has both a right and an obligation to support safe operations. Our commitment to safety is fundamental to our operations – with management oversight and ongoing training supported by unrelenting discipline.
Quality
Our Quality Management System (QMS) ensures that our activities consistently meet both customer and regulatory requirements, with a focus on continuous improvement.
Vision & Values
Safety, integrity, ownership, and innovation. The Acuren values are central to our success, and to yours.