National Board Program
What?
Acuren has a Quality Program registered with The National Board in accordance with NB-369
Acuren has a certificate of Accreditation from the NBIC to act as an Authorized Inspection Agency (AIA)
This program allows Acuren to perform in-service, repair and alteration inspection activities for boilers, pressure vessels, and pressure retaining items under the authority given by the National Board of Boiler & Pressure Vessel Inspectors, where permitted by local jurisdictions
Where?
Acuren has a broad pool of National Board In-Service Commissioned inspectors located throughout Canada and United States to assist our clients needs.
---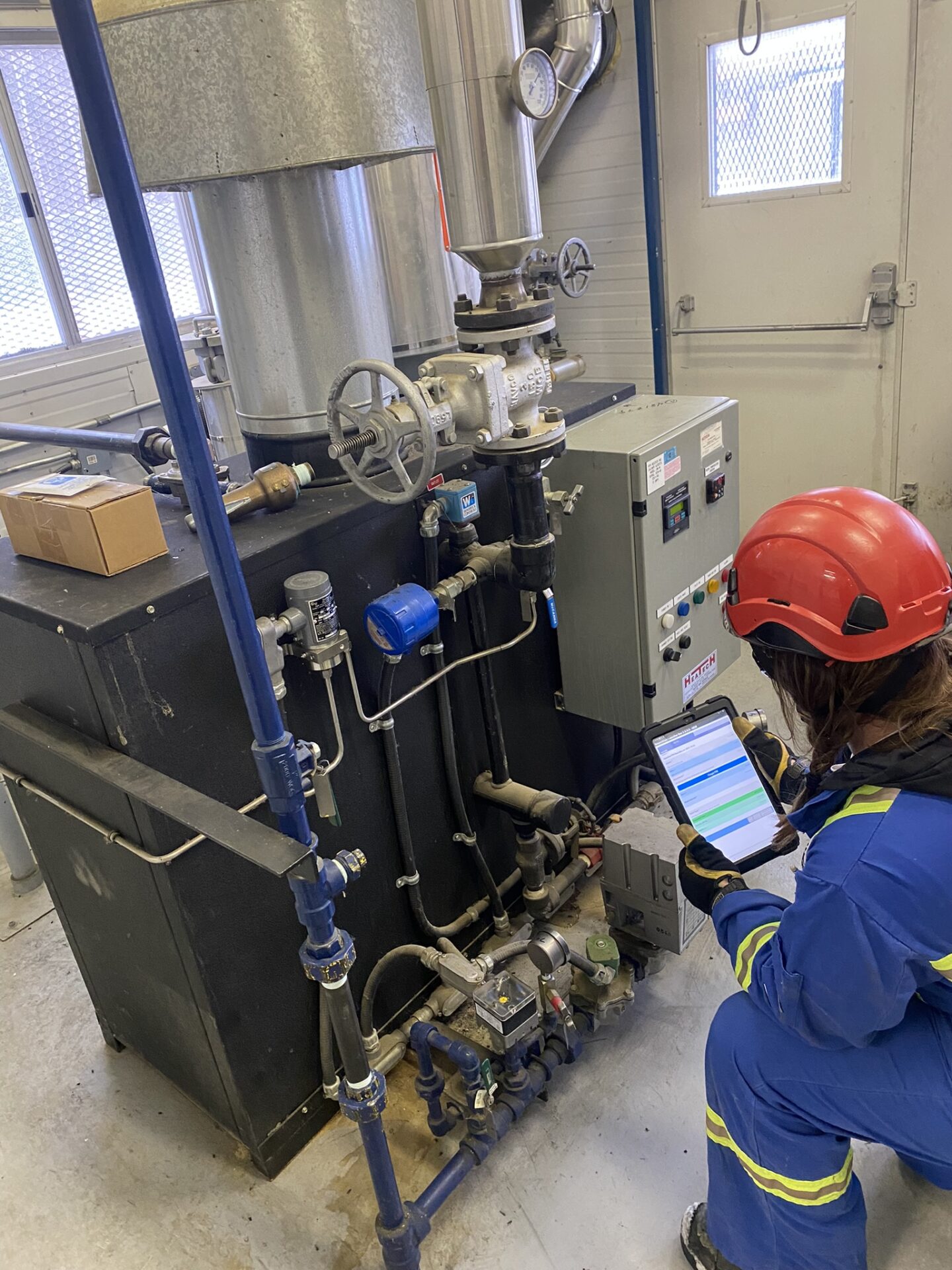 In-Service Inspectors
In-Service Inspectors
Individuals performing visual inspections hold the required inspection accreditations, as required by the regulations/codes/standards:

NB In-Service (IS) Commission
Additional inspection certificates (API 510/653/570), as required
Jurisdictional credentials, as required

Acuren's experienced inspectors perform integrity assessments of various typed of in-service pressure equipment. Assessments include determining corrosion rates, calculate minimum required thicknesses, perform remaining life calculations, and provide repair recommendations using data derived from field inspections and NDE.
Acuren inspectors can aid with inspection plan development, we know the damage mechanisms, where to look, and what nondestructive examination (NDE) technologies to deploy
Asset Integrity Management brochure
Repair Inspectors
Repair Inspectors
Acuren inspectors can perform inspection and certification of Repairs and Alterations on Pressure Equipment
Individuals performing these tasks hold the appropriate:

NB Repair (R) Endorsement
Additional inspection certificates (API 510/653/570), as required
CWB/CWI with appropriate endorsements
Other Jurisdictional credentials, as required

Some activities our repair inspectors perform include:

Continual monitoring of a repair companies quality program
Verification repair company can perform the required repairs and meets code / jurisdictional requirements
Notification of non-conformances
Material verification – appropriate, documented, traceable, and compatibility
Performing checks and inspections at designated points
Mechanical Integrity / Asset Integrity Management Programs
Mechanical Integrity / Asset Integrity Management Programs
Acuren Inspectors and Engineers understand the challenges associated with mechanical integrity and asset integrity programs and can help with the following: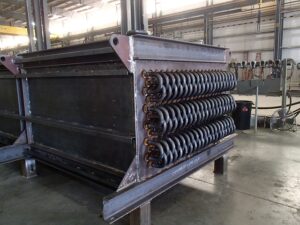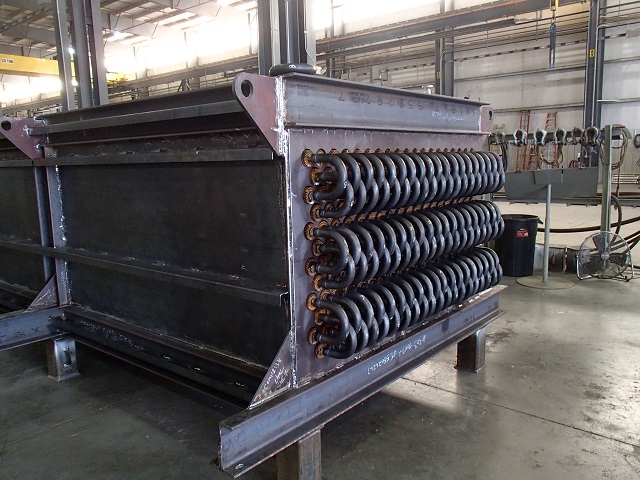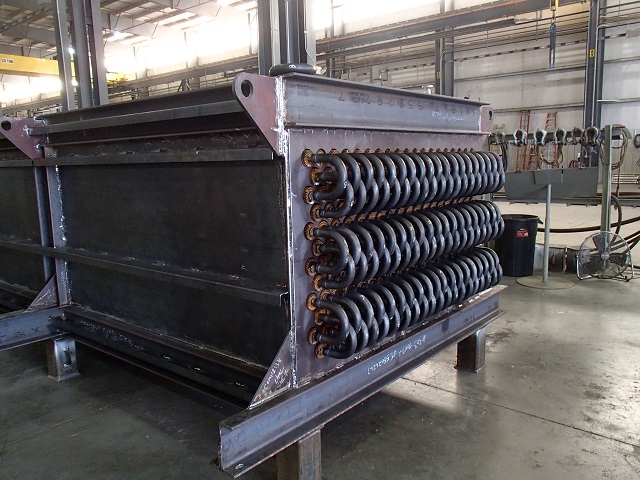 Develop Quality Management System (QMS) manual, programs, and procedures customized to Owner's business practices
Develop Piping Circuitization Programs and Facility Piping Inspection Program and oversee field project execution
High Energy Piping (HEP) Program Development
Implementation or Development of Risk Based Inspection (RBI) Programs
Perform 3rd party audits of vendors, such as repair companies, fabricators, and pressure safety valve service companies
Perform internal audits of Owners Quality Management Systems
Manage pressure equipment design and inspection data using Acuren or client database
Remote Inspections
Remote Inspections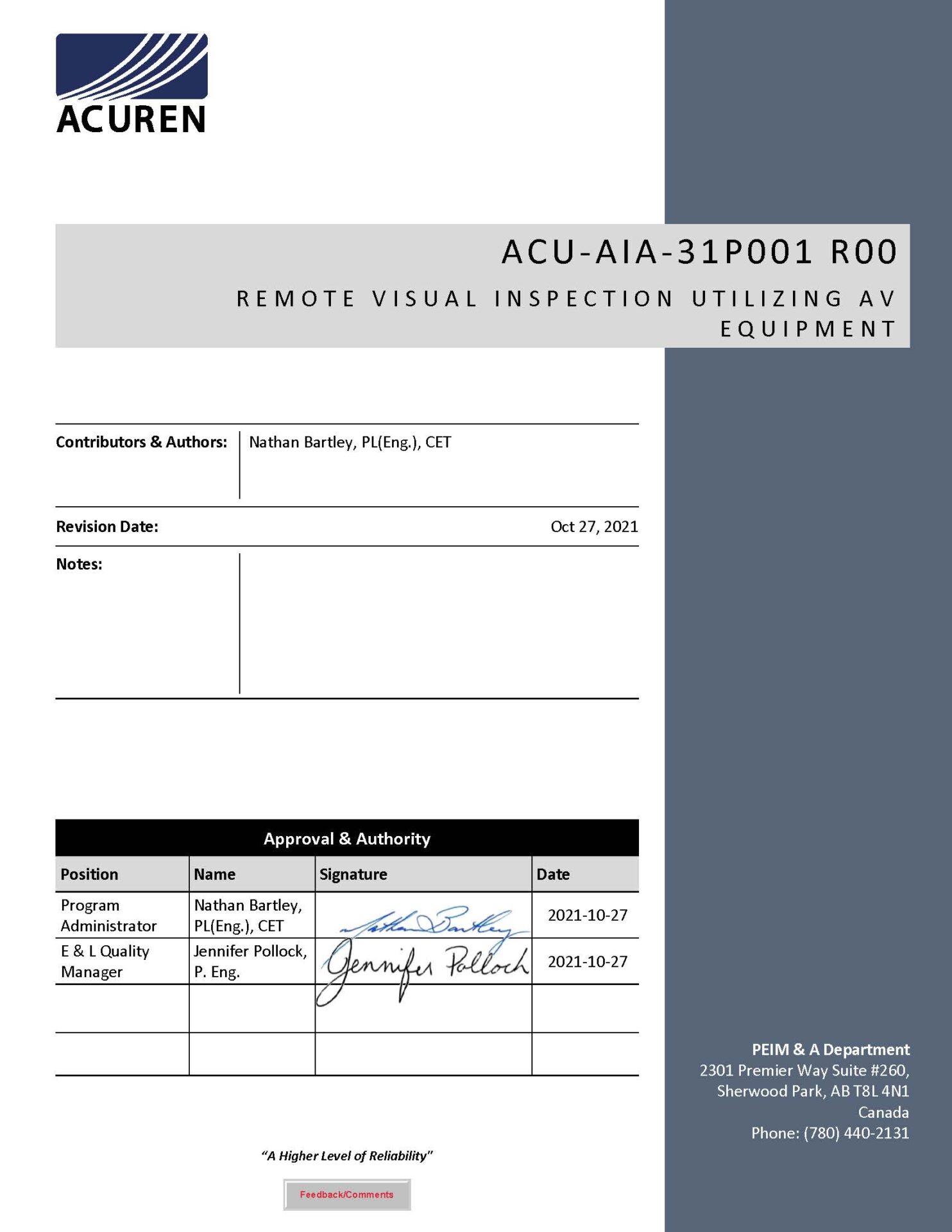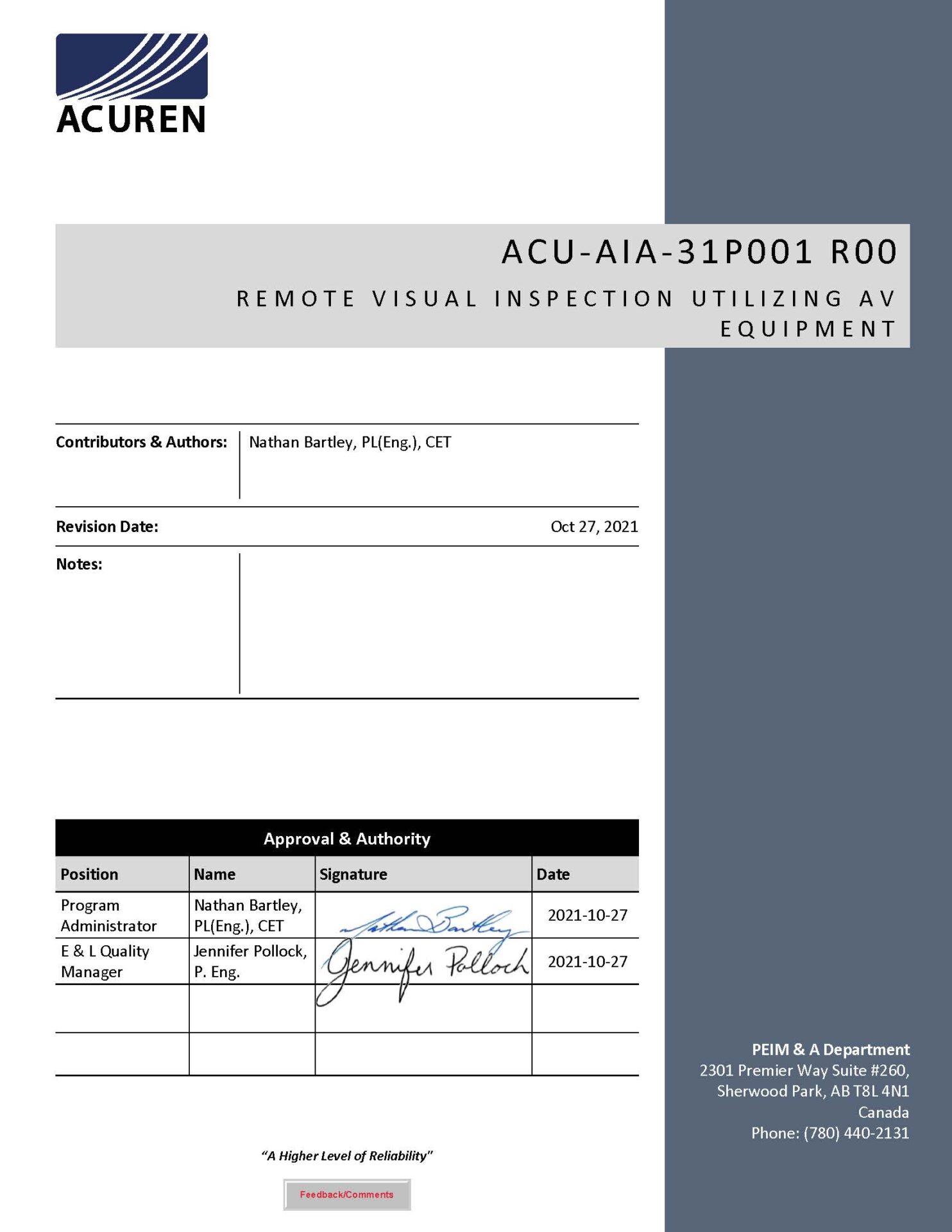 Acuren has an approved procedure to perform inspections of boilers, pressure vessels, pressure piping, and tanks remotely when the inspector is unable to be physically present at the shop or field where construction, fabrication, or repairs or alterations are occurring
Acuren Operators are experienced in various remote visual inspection methods including: fixed high resolution camera systems, robotic vehicular inspections, videoscopes, push and pan-tilt cameras, robotic crawlers, submersible ROV's, quadrupled robots, and more
Drones and robotic systems can be used to safely and efficiently inspect hard-to-reach areas, reducing the need for human inspections in hazardous environments
Acuren has a robust Remotely Piloted Aircraft Systems (RPAS) program. Our drones can perform a multitude of tasks including: remote visual inspection, infrared thermography, aerial ultrasonic thickness testing, fugitive emissions detection, and more.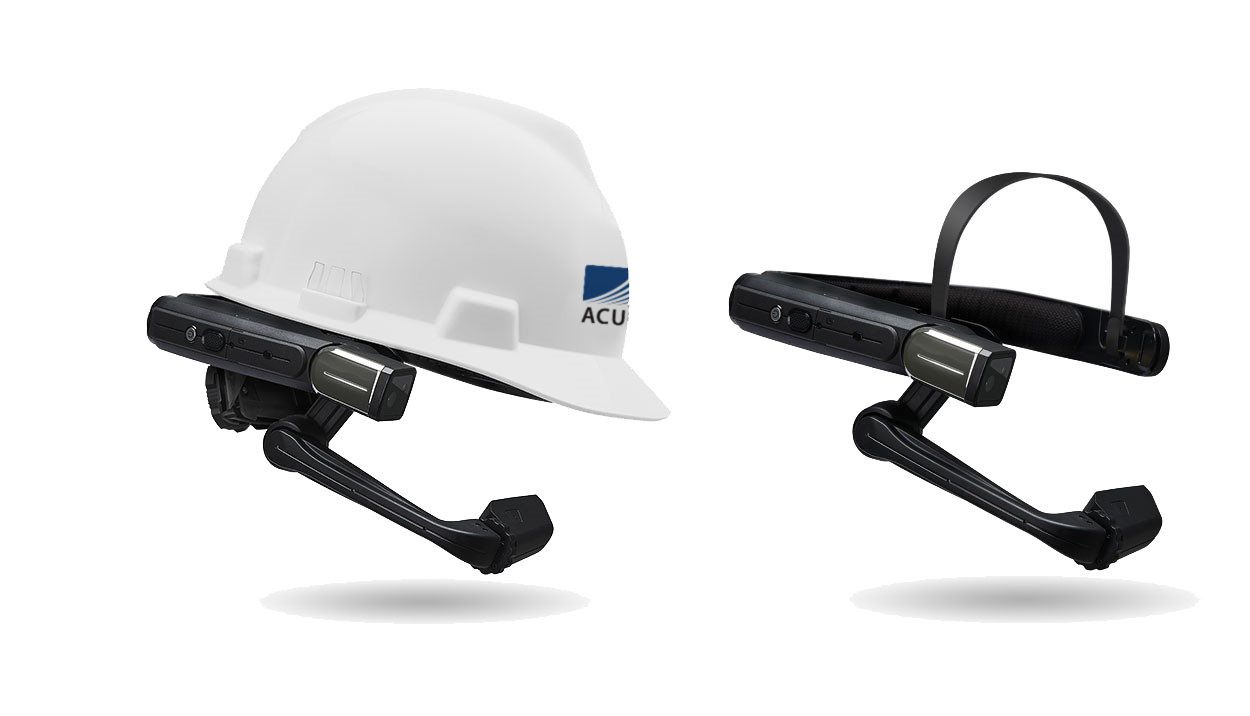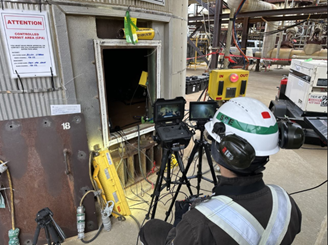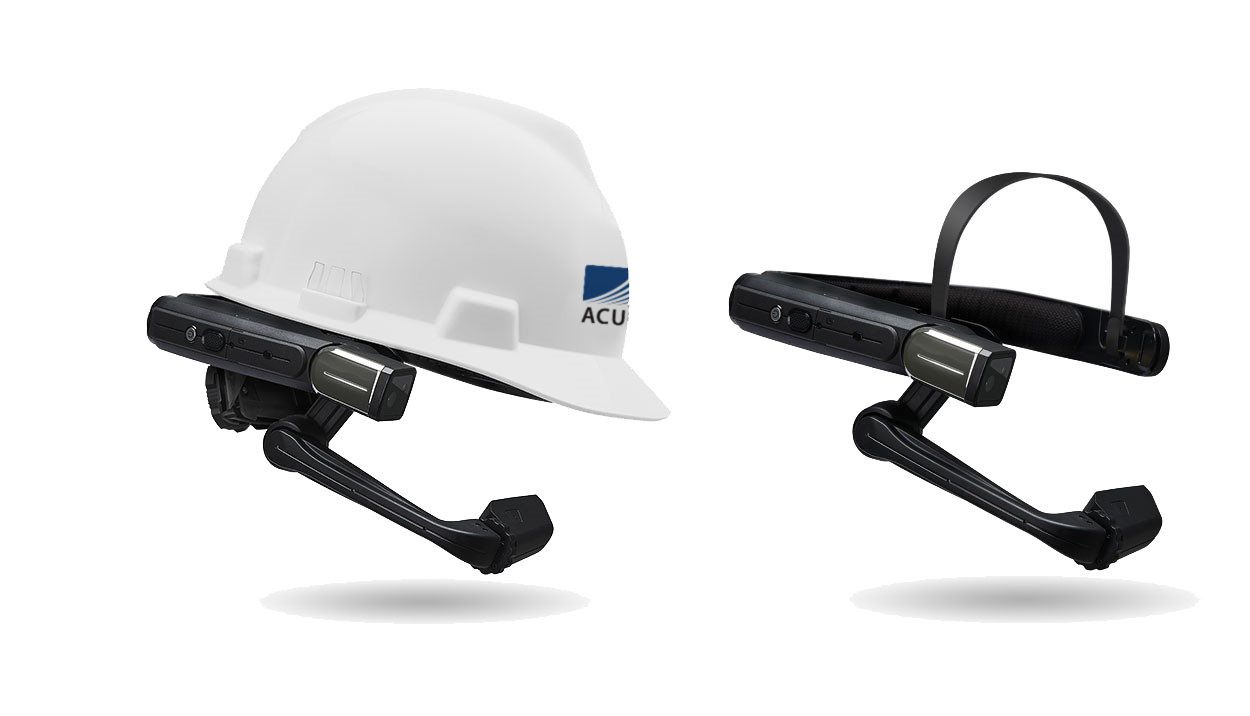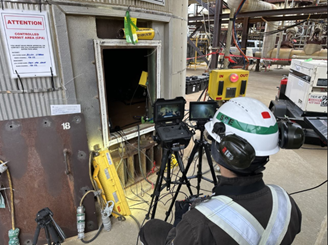 Engineering Solutions
Engineering Solutions
Our engineering experts can help you understand the various damage mechanisms and deleterious effects on your equipment
Acuren's materials engineers have investigated a wide array of failures attributed to various damage mechanisms
Our engineering services also include pressure/burst testing capabilities, pipeline evaluations, engineering critical assessments, fitness for service assessments and finite element analysis that can help you make informed decisions regarding the use and future of your equipment
Reliability engineering and condition-based monitoring support to improve operations for fixed equipment
Welding engineering support to develop and qualify weld procedures, develop repair procedures, perform vendor surveillance
For a full list of Engineering services, visit the Engineering Services webpage.
Engineering Services

Laboratory Testing
Laboratory Testing
Acuren has a network of material testing laboratories across North America that can support your routine and research-based testing needs. This includes standard offerings such as chemical analysis, tensile testing (including elevated temperature testing), Charpy impact testing, bend testing and hardness testing to help ensure new materials meet all required specifications and confirmation of the material properties of existing assets.
More advanced materials testing/characterization capabilities such as crack tip opening displacement (CTOD) testing and hydrogen embrittlement testing of threaded fasteners, and HIC testing for various components are also offered
Our labs are ISO 17025 accredited and backed by our materials engineering experts so that you can always have confidence in your testing results
Laboratory Services – Materials Testing & Analysis
Nondestructive Testing
Nondestructive Testing
For over 40 years, Acuren has been a world leader in innovative, cost effective nondestructive testing (NDT). Combined with our access optimization and integrated services, our cutting-edge NDE solutions can help you minimize downtime and decrease inspection costs. Nondestructive testing (NDT) techniques play a critical role in the acceptance of new construction, fabrication and installation of assets as well as detection of in-service damage. Starting with basic methods and progressing to advanced techniques, NDT helps identify early-stages of various damage mechanisms to ensure the safe and efficient operation of Owners infrastructure. Acuren's suite of nondestructive testing solutions provide accurate, reliable, and repeatable results that you can trust.
NDT/NDE Overview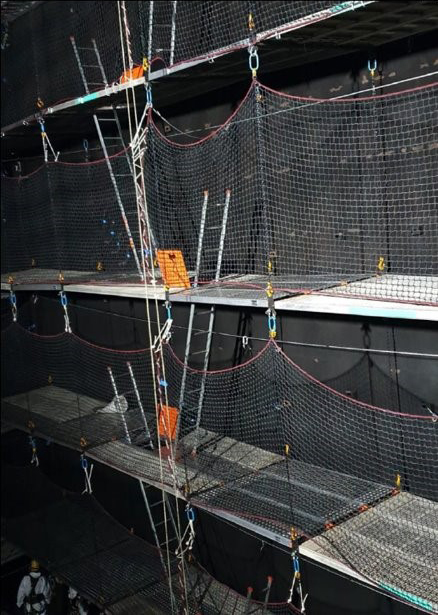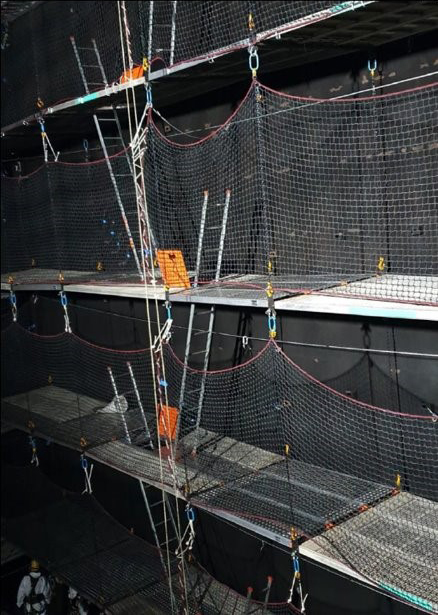 Alternative Access & Industrial Solutions
Alternative Access & Industrial Solutions
Acuren is the leading provider in North America for providing rope access and integrated industrial solutions. Rope access is a cost-effective option for hydrogen facilities due to a reduction in headcount of workers, reduced schedule and delays and reduced equipment downtime.
Visual inspection and most NDE techniques can be performed with alternative access methods, in addition to the industrial services below.
The latest innovative solution for alternative access is V-Deck Suspended Platforms which provide an additional method to access hard to reach areas, eliminating the need for large tower scaffold builds. Our V-deck solution can be used for a variety of applications, including access platforms, walkways, accessing under bridges.
Rope Access and V-deck systems are designed to improve safety in hydrogen facilities by reducing the potential for falls, dropped objects, and exposure hours of workers.
WHY ACUREN?
A fully integrated approach, combining Engineering, Inspection, NDE, industrial trades and rope access services. Acuren leads the industry as the one true supplier that can be the single turnkey vendor to execute comprehensive projects for National Board needs.
Acuren innovation, advanced applications, cutting-edge inspection solutions result in significant cost savings, reducing unnecessary mechanical scopes (insulation stripping where not required) saving precious time, material waste while reducing exposure to potential hazards
Leading provider of robust programs, founded on sound engineering practice through unparalleled industry knowledge, leveraging decades of experience
Rigorous training & competency programs for personnel
Extensive Safety and Quality programs
---
DON'T JUST TAKE OUR WORD FOR IT
You are providing the best customer service by far throughout every stage of the project. From contracts, estimates, kick offs, scheduling, inspections, reporting, invoicing. Top notch! Thank you!
– Sladjana Popovic, P.Eng. Specialist, Facility Integrity, Enbridge
Whether I'm working in an upstream or midstream business, the Acuren team has helped my operations and engineering teams create and manage integrity programs in a number of fields and facilities across BC and AB over the last decade. At this point in my career, when asset integrity comes into question, my first call is to the Acuren team.
– Jonathan Wright, Engineering and Operations Director, ACGS Fortis BC