Food and Beverage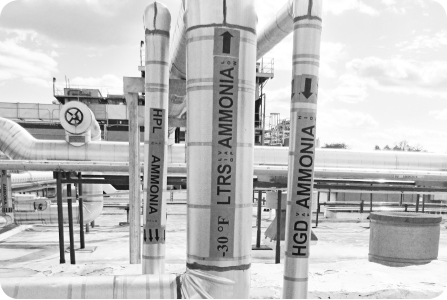 Acuren's integrated solutions for the Food and Beverage Industry combine years of experience with leading technology to help protect your assets.
Our integrated approach ensures that food and beverage industry leaders meet all regulatory requirements to perform mechanical integrity inspections on refrigeration systems ensuring the reliability of equipment and systems and minimize the risk of accidental release of ammonia.
Acuren's technically skilled and experienced staff of over 4000 technicians and network of 90+ branches ensure your equipment remains safe at all time.
Reliable, Repeatable Services Only Acuren Can Deliver
Our comprehensive digital reporting exceeds our competitors' capabilities with mobile access.
The on demand, 24/7 access to inspection report information, both wall thickness and x ray images, can be viewed in the field at the point of inspection. No delay of returning to the office computer.
Each inspection point numbered tag will have a QR code that identifies specifically with that point in the system. All of vital information you are used to seeing on the report is linked. Inspection date, pipe size, wall thickness and variance percentage from new will help your crew work with confidence.
Acuren designs and implements inspection programs including the following services:
5-year Mechanical Integrity Program
API Vessel Inspection
Vibration Analysis
Piping Systems
Protective Systems
Supports
Visual Inspections
Real Time Radiography (RTR)
Ultrasonic Thickness Testing
Liquid Penetrant Testing
Contact us today to learn more about our integrated approach 1-800-218-7450.
Our Services
Engineering
Acuren's world-class teams of over 100 engineers have extensive experience both in the field and in our laboratories to provide a higher level of reliability.
Inspection
Acuren offers you an unrivaled spectrum of traditional and advanced nondestructive testing and NDE methods to ensure cost-effective and accurate inspection results.
Rope Access Industrial Services
Acuren provides integrated industrial services including inspection, repair and maintenance via rope access using composite crews with multi-disciplined trades, experienced personnel, IRATA certified technicians, and customized access optimization programs.
Success Stories
Reliability Engineering Services Delivers Cost Savings
Richardson Oilseed is one of Canada's oldest and largest fully-integrated crushing, refining, processing and packaging operations. In the absence of timely manufacturer support for a critical equipment issue, the full time onsite Acuren Condition Monitoring Specialist was able to diagnose and provide a detailed correction path on a defective trunion bearing.
Ropes Team Saves Thousands on Pump Box Work
During a planned outage ultrasonic testing and visual inspection revealed that a significant portion of the pump box floor either needed to be repaired, or cut out and replaced.
About Acuren
Safety
We believe all incidents are preventable and that every employee has both a right and an obligation to support safe operations. Our commitment to safety is fundamental to our operations – with management oversight and ongoing training supported by unrelenting discipline.
Quality
Our Quality Management System (QMS) ensures that our activities consistently meet both customer and regulatory requirements, with a focus on continuous improvement.
Vision & Values
Safety, integrity, ownership, and innovation. The Acuren values are central to our success, and to yours.