Pipeline Integrity Field Services
Comprehensive Services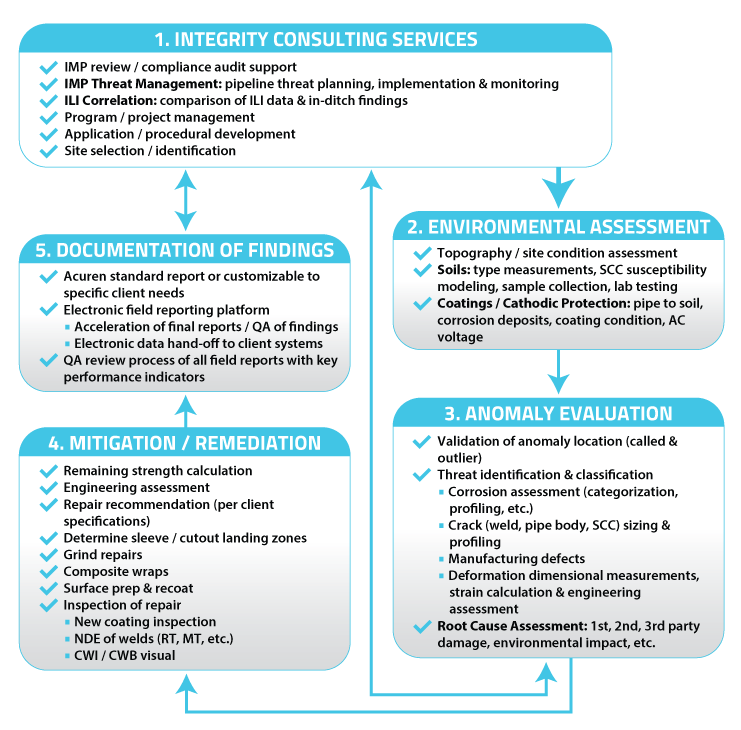 Failure Analysis & Material Evaluation Of Pipelines
Owners manage the integrity of above-ground and buried pipelines with numerous systems and processes. However, there can be unforeseeable circumstances or system breakdowns which precipitate failures of piping and auxiliary equipment. Acuren's highly experienced engineers can perform failure analysis, evaluate material properties, suggest alternatives to materials, testing/monitoring procedures to help Owners prevent future occurrences. As part of the failure investigation / product evaluation, engineers assess the components in the field and/or laboratory which may include: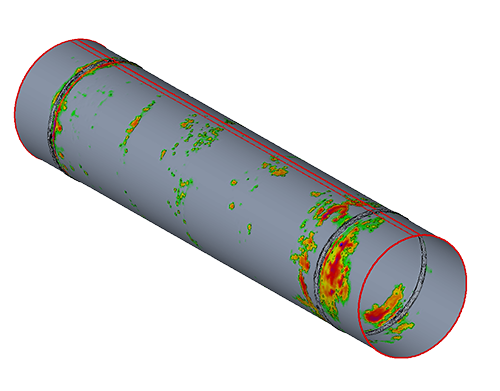 Detailed analysis of pipeline fracture surface to determine failure mode/mechanism
Determine if pipe meets the specified mechanical and chemical properties with laboratory testing
Optical microscopy and scanning electron microscopy to evaluate material microstructure, flaws and fracture surfaces
Determine presence of bacteria involved in microbiologically influenced corrosion (MIC)
Identify type of corrosion scales and foreign debris using x-ray diffraction (XRD) or energy dispersive x-ray (EDX) spectroscopy
Perform burst testing of pipe to predict failure pressures, strain and fracture mode
Crack Tip Opening Displacement (CTOD) testing to determine critical allowable flaw sizes in pipe welds
Provide independent failure analysis and reports for regulatory bodies
Committed To Excellence
Committed to delivering a higher level of reliability, Acuren provides an unrivaled spectrum of services to support the safe operation of industrial assets. Acuren's commitment to safety, quality and professionalism spans four decades. We have programs to manage risk in all environments as well as robust programs to manage resources, equipment, personnel, environmental practice, audit, reporting, safety and customer stewardship expectations. Our expertise in weld inspection, crack sizing, corrosion mechanisms, and deformation has made us the first call for natural gas and liquid pipeline operators across all climates.
Acuren's integrated core competencies within Pipeline Integrity ensures a turnkey solution with maximized savings for our customers requirements.

Our multi-certified experts paired with the industry's most advanced technology ensures we complete every job efficiently.

Acuren's proprietary equipment allows us to complete the job in less than half the time with 2-3x the data collected, saving on construction crews downtime.

Our goal is to provide pipeline integrity programs, services and threat management programs to meet the increasing demands of our pipeline customers. Acuren has dedicated years of training and resources to ensuring the value we deliver through our pipeline integrity programs far exceeds that of our competition.
Execution Excellence: dedicated pipeline integrity operation ensuring safety, quality and scope execution excellence
Specialization: technicians specifically trained and dedicated to supporting pipeline integrity programs rather than general NDE technicians
Damage Mechanism Capabilities: technicians have specific and intimate damage mechanism identification capabilities
Scalability: we have a pipeline integrity technician pool that spans North America
Multiple Disciplines: our pipeline integrity technicians have experience in multiple disciplines: coatings, cathodic protection, soils geology, inline inspection and NDE
Program Management: verification of log data, interpretation of inspection results and threat management
Dedicated Personnel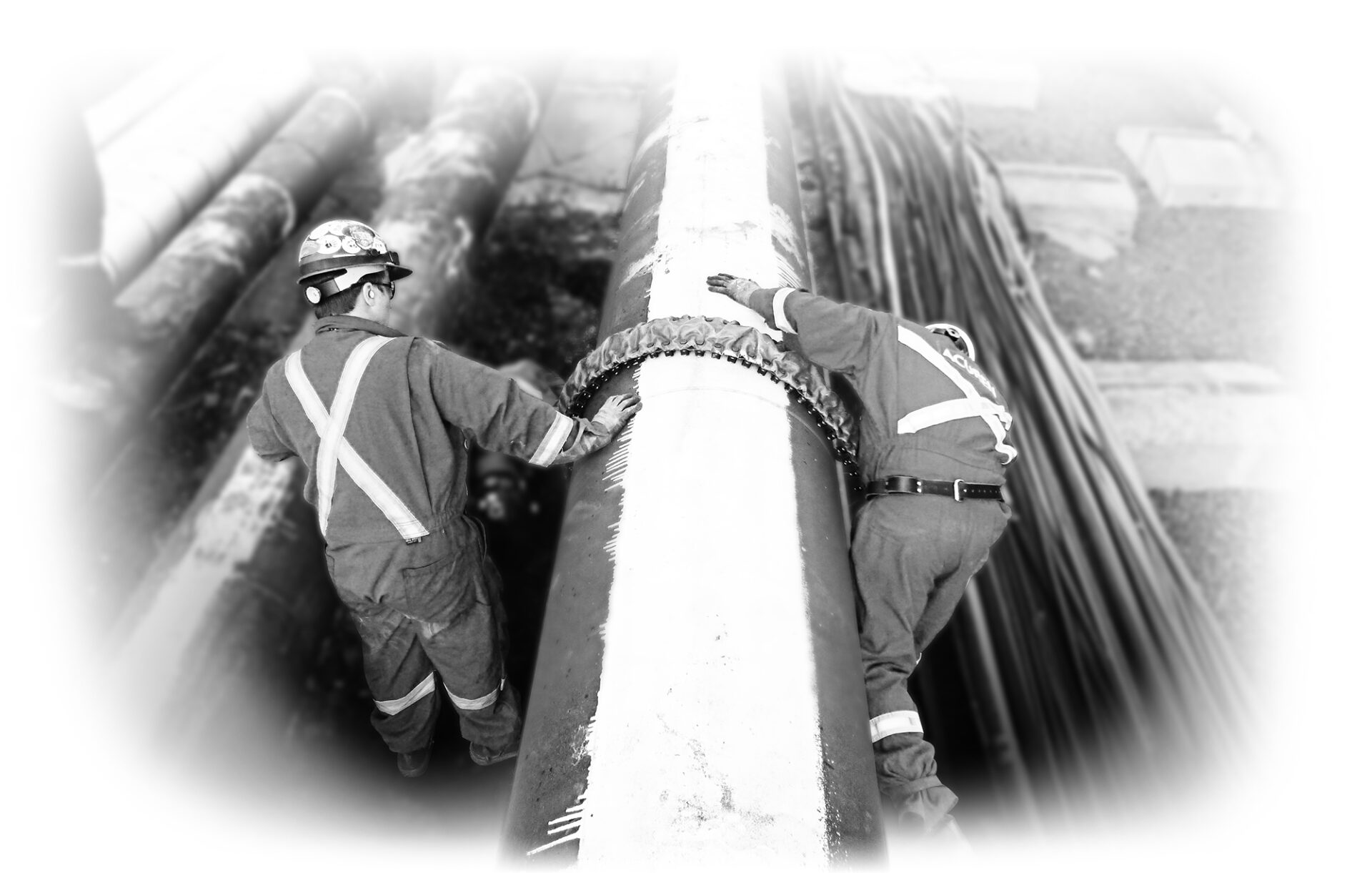 We employ technicians that are trained, capable, and certified in:

NACE
CWI/CWB
PAUT
Corrosion Mapping
Guided Wave
TOFD
OES
PEC
MT
PT

Better understanding of pipeline defect mechanisms resulting in more accurate anomaly evaluations
Better productivity / efficiency in ditch reducing overall cost per dig
More consistent and higher quality reports
Inhouse Operator Qualification management (EWN, ISN/NCCER, Veriforce) allows Acuren to ensure inspectors are certified and qualified for tasks performed
Centralized Management
Single point of contact
Consistent invoicing
Ease of scheduling
Complimentary services
SCC Threat Management
Multiple inspection methods
15+ years performing assessments
Soils modeling / survey integration
Full Range Of Solutions
NDE on Pipeline Approach

Conventional NDE inspection techniques (e.g. MT, UT Straight Beam, Pit Gauging) on pipeline defects
Provide results to 3rd party / company personnel for assessment

Hybrid Approach

Broader, more complex inspection methods with more encompassing report to include additional components (such as soils, coatings, cathodic protection system readings, etc.)

Root Cause Assessment

Analytical process / procedure to assess defect and attempt to identify root cause (isolated or more systemic damage mechanism)
Up to 3rd party engineering / assessment
Investment In Accuracy, Repeatability, & Efficiency
Pipeline specific training program (nomenclature, damage mechanisms, manufacturing methods, etc.)
Reporting platforms (efficiencies, quality, timeliness of reports)

Client specific customization, reduction of transposition errors, reduced report generation time, systematic QA checks, client dashboards
SPECIFIC SERVICES
---
RT

Iridium Sources
X-Ray tube
Cobalt Sources
Real Time X-Ray (parts/in-house)
Real Time Radiography (CUI)

Magnetic Particle Services

Portable MT – Yokes/Coils
Wet Horizontal Machines

Dye Penetrant Services

Portable PT
Dye Penetrant Lines

Ultrasonic Services

Thickness Gauging
Shear Wave/Angle Beam
Boiler Tube Loggers
B-Scan Examination
Hardness Measurements

Eddy Current Services

Eddy Current Tube Inspection
RFT Surface Exams

Flux Leakage

Steel Test Examination
Magnetic Liftoff
Tank Floor Examination

Thermal Inspection

Automated Ultrasonic

Automated UT (AUT) Scanning
Automated Pipeline Inspection
Automated Tank Crawler

Advanced Ultrasonic

Flaw Analysis and Sizing
EMAT Boiler Inspection
High Temperature
NOTIS – Oxide Thickness

Specialized Techniques

ACFM Examination
Boiler Tube Floor Scanner

Advanced Radiographic

Specialized Tubing Inspections

Near Drum Examination
Hone and Glow
IRIS Examination
DS2 Paper Machine Scanning
Remote Field Testing (RFT) Tube Exams
Near Field Testing (NFT)

Boiler Life Assessment/Materials Engineering

Pipeline Bridge Span Examination
Wire Rope Examination
Coating Removal and Repair

Valve Leak Detection

Fugitive Emissions

Failure Analysis
Expert Witness

Calibration Services

Welder Testing

Pipeline Integrity Services

Training Schools

Visual Inspection

Certified Welding Inspectors
API 510 / 570 / 653 Inspectors
NACE Inspectors

Software Development

Heat Exchanger Tube Inspection Module

Autocad/Field Sketching

Procedure Development