Power Generation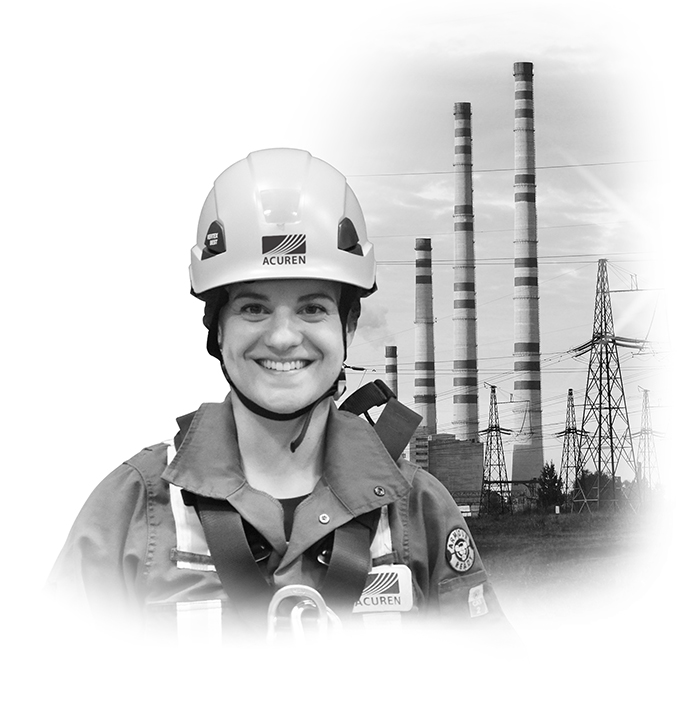 Acuren's ongoing relationship with the leading power generation providers in North America gives us unique unmatched insight. Our services for the power generation industry are designed to minimize downtime, improve productivity, and decrease costs by extending component life and planning ahead for the replacement of critical equipment as it nears end-of-life. When you engage us, you can expect the commitment to quality, reliability, and safety that has earned Acuren a leadership position in the power generation industry.
---
Our teams have extensive field experience assisting power plants throughout all stages of equipment lifecycles including design, inspection, maintenance, repair, and failure analysis.
---

Nuclear – 3rd party oversight, QA/QC, BOP (Balance of Plant)
Alternative and renewable energy
Transmission and distribution
Coal fired boilers
Gas fired boilers
Combined cycle
Field Material Identification
Improve the integrity of your materials control system with Acuren's positive material identification services. Acuren's technicians will quickly validate raw materials before production has begun, enabling complete traceability. Because materials are accurately matched to a specific supplier, any quality issues can be documented and quickly resolved. Portable methods of chemical analysis offered include:
XRF (X-Ray Fluorescence) | OES (Optical Emission Spectrometer) | LIBS (Laser-Induced Breakdown Spectroscopy)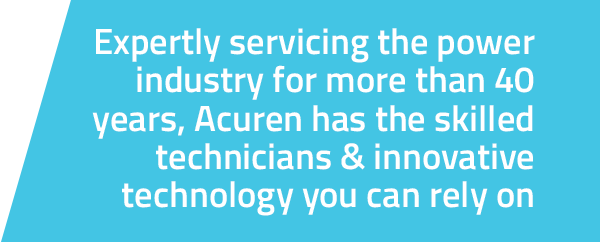 Lab Testing
Mechanical Testing
Mechanical testing is vital to confirming any material grade, evaluating any component, or putting any critical design into practice. Mistakes here can lead to dangerous, costly, and time-consuming problems in the future. When safety, quality, and production efficiency matter, rely on Acuren. Our mechanical testing services include:
Tensile testing – including elevated temperature
Bend testing
Charpy impact testing
Weld procedure testing – ASTM, CSA, AWS, AWWA, ASME
MTR assessment / product conformance certification
Stress rupture testing
Sour gas testing
Fracture toughness testing (CTOD testing)
Chemical Analysis
Acuren operates eight service-oriented laboratories enabling us to deliver rapid results regardless of project size. Our field spectrographic equipment can travel to your site for fast, nondestructive chemistry testing. Results are delivered electronically for faster decision making and improved collaboration. Our services
can help you with:
Ensuring compliance with materials specifications
Identification of unknown materials
Alloy sorting
Evaluating weld procedure acceptability
Failure Analysis
When a failure occurs, thorough analysis can offer insight and preventive solutions for the future. At Acuren, our engineers undertake the meticulous examination of failed and damaged components to give you clear guidance on the failure mechanism and root cause to ultimately prevent future occurrences. Acuren can support owners in their accident investigation process and provide litigation support when required. A sampling of our procedures includes:

Metallographic examination
Micro and macrophotography
Fractography
Optical and scanning electron microscopy
Oxide thickness measurement
Mechanical testing (hardness, tensile and impact)
Fracture toughness testing
Chemical analysis
Elevated temperature stress rupture analysis
Energy dispersive X-ray analysis (x-ray diffraction)
Corrosion scale analysis
Root cause analysis
Consulting Services
At Acuren, we believe results come from specialized teams who understand your process in general, and your mill or plant in particular. We'll provide the right engineering experts who can offer cost-effective solutions to benefit your business. Acuren consulting services for power plants include:
Materials selection
Field analysis of failure causes
Fitness for purpose
Weld repair procedures
Fracture mechanics
In situ metallography
Corrosion studies
Quality assurance/quality control services
Water treatment and energy analysis
Steam cycle chemistry evaluation
Chemical cleaning support
Chief inspector services
Water and steam chemistry consulting

Boiler feedwater and steam
Closed and open cooling water (both fossil and nuclear)
Pretreatment equipment (clarifier/softeners, ion exchange, RO)
Wastewater (ZLD) treatment equipment and processes
Acuren's engineers have a solid reputation for providing accurate and definitive materials integrity solutions. Our internationally-recognized team has extensive field experience assisting power plants throughout all stages of equipment lifecycles including design, inspection, maintenance, repair, and failure analysis.
Corrosion Laboratory
Corrosion Testing
Accelerated corrosion assessment
Testing of materials in a simulated corrosion environment
Bacterial testing
Autoclaves for pressure vessel simulations
Life Assessment Studies Field Services
Acuren's life assessment services reliably answer critical questions regarding equipment longevity that allow proactive repair and replacement planning. Real-time condition monitoring can give you an immediate snapshot of how your equipment is functioning. Our engineers are experienced in power generation processes, equipment, materials, and service demands. Specialized techniques include: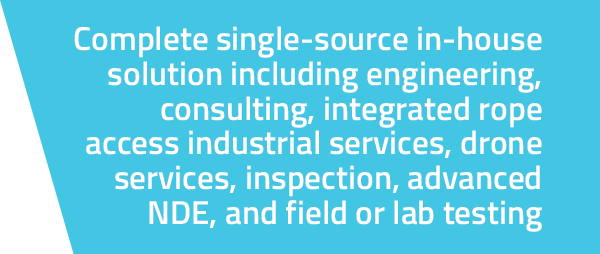 In-situ metallography
On-site alloy analysis
Crack detection and analysis
Macro and microhardness testing
Strain gauging
Stress analysis
Fitness for purpose
Conventional NDT Services
Radiographic Testing (RT)
Dye Penetrant Testing (PT)
Remote Inspection – borescope
Advanced NDT Services
UT crack detection/sizing
Flow Accelerated Corrosion (FAC)
Automated UT
C-Scan corrosion mapping/flaw evaluation
EMAT boiler tube/hydrogen damage inspection
ACFM examination
Tubular inspection – IRIS/ET/RFT/NFT/MFL
3D laser mapping
Flange Scanner ultrasonic testing
Facility Inspection Services
Acuren provides inspectors throughout the life cycle of your facility – design, construction, commissioning, planned and unplanned outages, maintenance activities, and decommissioning. Our industry leading experts can help plan outages and inspections to optimize your schedules to reduce downtime and select the most appropriate NDE techniques for your application.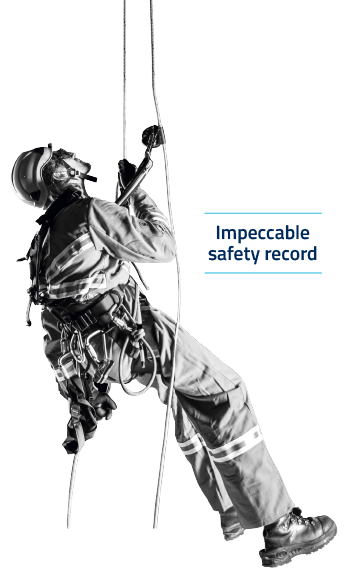 Tank inspection – API 653
Vessel inspection – ASME VIII
Piping inspection – ASME B31.1
Boiler inspection – ASME I & NBIC IS/R
QA/QC inspection – AWS CWI
Refractory inspection – API 936
Coating inspection – NACE
Specialized Services
Turbine generator examination
Comprehensive boiler examination
Coal bunker inspection
Construction NDT services
Steam Turbine Risk Assessment Programs
Rope Access
In addition to offering inspection and industrial services from ropes, we also offer these other rope enabled capabilities:
Contracted rescue services
Industrial high angle rescue
Fall protection and tower rescue
Engineered fall protection services
To speak to our team of power generation specialists, please call 1-800-218-7450 or email us.
RELATED SERVICES
You can download the full brochure on our power generation services here:
Our Services
Engineering
Acuren's world-class teams of over 100 engineers have extensive experience both in the field and in our laboratories to provide a higher level of reliability.
Inspection
Acuren offers you an unrivaled spectrum of traditional and advanced nondestructive testing and NDE methods to ensure cost-effective and accurate inspection results.
Rope Access Industrial Services
Acuren provides integrated industrial services including inspection, repair and maintenance via rope access using composite crews with multi-disciplined trades, experienced personnel, IRATA certified technicians, and customized access optimization programs.
Success Stories
Reliability Engineering Services Delivers Cost Savings
Richardson Oilseed is one of Canada's oldest and largest fully-integrated crushing, refining, processing and packaging operations. In the absence of timely manufacturer support for a critical equipment issue, the full time onsite Acuren Condition Monitoring Specialist was able to diagnose and provide a detailed correction path on a defective trunion bearing.
Ropes Team Saves Thousands on Pump Box Work
During a planned outage ultrasonic testing and visual inspection revealed that a significant portion of the pump box floor either needed to be repaired, or cut out and replaced.
About Acuren
Safety
We believe all incidents are preventable and that every employee has both a right and an obligation to support safe operations. Our commitment to safety is fundamental to our operations – with management oversight and ongoing training supported by unrelenting discipline.
Quality
Our Quality Management System (QMS) ensures that our activities consistently meet both customer and regulatory requirements, with a focus on continuous improvement.
Vision & Values
Safety, integrity, ownership, and innovation. The Acuren values are central to our success, and to yours.