Acuren provides integrated industrial services using rope access including inspection, repair and maintenance using composite crews with multi-disciplined trades, experienced personnel, in-house engineering, customized access optimization programs, and technicians that are either certified to, or comply with, IRATA and SPRAT standards.
Rope Access Industrial Services
The Industry Leader in
Industrial Rope Access Solutions
Download the Acuren Rope Access Brochure
We go places, and do things, others simply can't.
For 20 years, Acuren has provided integrated industrial services to industry's largest clients. Acuren provides integrated services including repair and maintenance and inspection services using composite crews with multi-disciplined trades, experienced personnel, IRATA or SPRAT certified technicians, and customized access optimization programs.
We have a range of highly skilled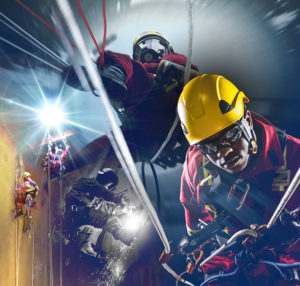 individuals to complete tasks efficiently and safely. Our rope access techniques are safer than traditional methods with training regulated by governing bodies. Our crews aim to complete tasks in a shorter time frame than conventional methods, saving both time and resources.
We partner with our customers to provide exceptional project management services designed for their needs and to minimize risk. We understand that our customers operate in a climate of market pressures beyond their control and when we design a solution, it is a customized plan based on years of experience.
Our composite crews of certified tradespeople including electricians, insulators and pipefitters will reduce the reliance on expensive and bulky scaffolding. Our IRATA/SPRAT certified rope access personnel can quickly start and finish short-term maintenance projects, while reducing the total spend a specific scope of work by not requiring scaffold be set up or taken down, and have maintenance completed in an expedient manner, reducing total downtime.
Please see videos of the following 2 complicated projects that were flawlessly executed by our Rope Access Integrated Services teams:
Dribble Chute Replacement Using Rope Access
Surge Bin Wear Replacement Using Rope Access
REACH OUT TO US REGARDING YOUR WORK-AT-HEIGHTS PROJECTS, QUESTIONS OR CHALLENGES
Find out how our rope access solutions can save you time and money.
Depth of Capability
A large labor pool enables us to develop better talent
Thousands of employees dispatched from 90 locations across North America.
A majority of the industry's Level 3's, work for Acuren (standards dictate that you cannot do rope access work without a Level 3 supervisor).
We employ more than 700 rope access technicians in Canada and the United States across all trades and inspection methods.
We have level 3's with extensive experience managing multi‐million dollar industrial scopes in the oil sands including pipefitting, welding, insulation, electrical and more.
IRATA Certified Local Training in Canada
IRATA is the gold standard for rope access and has developed robust processes and training to ensure the highest level of rigor in certifying technicians for all levels. In particular Level 3 technicians require 2000 hours of varied field experience which typically takes 3 years to achieve. Standards are maintained by the governing body as opposed to in-house certifications.
IRATA training on rigging, combined with our engineered anchor selection program, ensures a high degree of flexibility while maintaining the highest safety standards.
Composite Crews
Integrated inspection and maintenance crews with rope access capabilities combine to be one of the most significant drivers of value resulting in reduced schedule, overhead and total cost.
Fully embedded contractor delivering both inspection and trades from ropes with all of the cost savings and benefits of being able to share resources across trades, inspection and rope access.
Agreements with local trade organizations that allows us to deploy one crew with multiple trades who can support each other and deliver maximum efficiency.
National and Regional Strength
To service larger projects or unplanned outages, we are able to draw upon the resources and engineering knowledge of other major centers across North America. National programs provide our regional operations with training, technology, capital investment, vertical market expertise, IT systems, procedures, professional safety and quality oversight, and resource sharing (with the entire Acuren organization). This model enables us to provide specialized services and offer large‐scale support to our customers in a timely and cost-effective manner.
Certifications
National Board "R" Stamp

Repairs and Alterations to Pressure Vessels under NBIC/ASME

American Society of Mechanical Engineers "PP" Stamp

Fabrication and repair of pressure piping under ASME

Alberta Boilers Safety Association (ABSA)

Approved welding programs under ABSA and the Safety Codes Act

Canadian Welding Bureau (CWB)

Fabrication and repair of structures under CSA W47.1

Technical Safety Standards Association (TSSA)

Approved welding programs under CSA B51 and ASME

National Center for Construction Education and Research (NCCER)

Repairs and alterations to insulation

AMPP (NACE/SSPC merger)

Application of corrosion protection coatings
Our Rope Access Services Include:
Hoisting & Rigging
Flare and incinerator stacks (repairs, installations, and removals)
Heavy lifting and hoisting
Inspection
Remote inspection – Sensor install, Acoustic emission, Stress analysis, UT probes
Coal bunker inspection
Stack inspection
Wind power generation blade inspection
Quality assurance
Quality control
Spring cans
Spring hangers
Pipe hangers and clamps
Pipe supports, guides, shields and saddles
Insulation & Asbestos Abatement
New installations, repairs and removal
Piping, vessels, columns and tank insulation and cladding
Utilidoor and tank panel systems
Refractory repair
Asbestos abatement
Fireproofing and firestopping
Fabrication
Fittings
Flange and valve covers (hard and soft)
Insulation systems
Installation, Removal & Replacement
Piping repairs, installation, and removal
Electrical installation
Metal cladding
Vessel and tank repairs
Riser installation
Sprinkler heads
Bolt torqueing
Valve turning
Block and blinding
Heat treat
Spring cans
Spring hangers
Pipe hangers and clamps
Pipe supports, guides, shields and saddles
Electrical
Inspection and testing – Line resistance testing, Insulation visual inspection
Terminations
Cable pulling
Cable tray inspection and repair
Electrical heat trace
Repairs – Electrical panels, Junction boxes, Lighting (ballasts and bulbs)
Welding/Pipefitting
Steam trace
Valves, PSV install, replacements
Structural and pressure
Vessels and tanks
Pipe spool replacement
Patches and repairs
Wear plates
Painting & Coating
Protective coating (internal and external surfaces of tanks, vessels, and structural steel)
Bristle blasting, sand blasting and vacuum blasting
Lead paint abatement
TSA – Thermal Spray Aluminium
Other Offerings
Shutdown and turn around support
Winterization and seasonal maintenance (including ice and snow removal)
Removal of damaged equipment and overhead hazards (including cable trays, ice removal, cleaning)
Confined space (including rescue service)
Furnace and burner de-slags
Nuts and bolt removal, replacement, and torquing
De-vegetation
Geotechnical work (slope stabilization, scaling, trimming, pinning)
Contact Acuren For Industrial Rope Access Solutions
We go places and do things that others simply can't. With an impeccable safety record and world-class expertise, Acuren is the premier choice for rope access services. Compared to traditional access methods like scaffolding, our industry-leading rope access services help you improve reliability and safety for your operations. Contact us online to get in touch with an Acuren representative about our rope access services, or call us at 1-800-218-7450.
RELATED SERVICES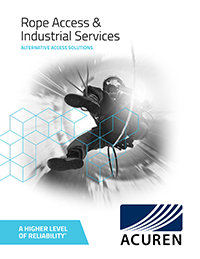 Our Services
Engineering
Acuren's world-class teams of over 100 engineers have extensive experience both in the field and in our laboratories to provide a higher level of reliability.
Inspection
Acuren offers you an unrivaled spectrum of traditional and advanced nondestructive testing and NDE methods to ensure cost-effective and accurate inspection results.
Rope Access Industrial Services
Acuren provides integrated industrial services including inspection, repair and maintenance via rope access using composite crews with multi-disciplined trades, experienced personnel, IRATA certified technicians, and customized access optimization programs.
Success Stories
Flare Stack - Extending Operating Life of Critical Legacy Asset
This oil and gas customer had a 60 year old flare stack with cracking and corrosion that was approaching its end of life. Due to the cracking and corrosion thinning, there was considerable potential for failure for the flare tip and stack pipe. The cost for flare stack replacement was significant and Acuren offered a solution for life extension rather than stack replacement.
Ropes Team Saves Thousands on Pump Box Work
During a planned outage ultrasonic testing and visual inspection revealed that a significant portion of the pump box floor either needed to be repaired, or cut out and replaced.
Related Industries
Oil & Gas
You can trust the skilled professionals at Acuren to offer highly specialized talent and expert services to refining, extraction, and petrochemical industrial clients.
Chemical
Acuren's inspection programs for chemical plants lower the risk of asset failure and support the overall safety and productivity of your operations.
Building & Infrastructure
Structural design engineers, inspectors, nondestructive testing technicians, laboratory technologists and rope access technicians deliver solutions to help you design, construct and maintain your buildings and valuable infrastructure.