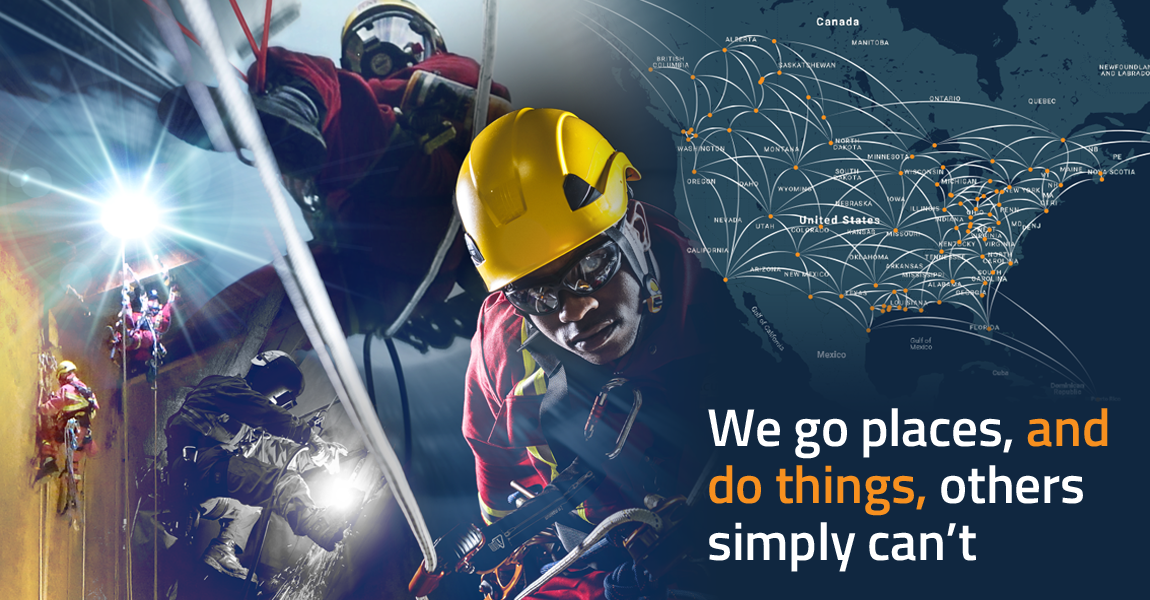 Rope Access Inspection Services
Read our full range of services by downloading the complete Rope Access & Integrated Services brochure.
Choose Acuren's integrated rope access model to ensure the most efficient, cost-effective inspection for equipment in nearly any industry. Our approach has been demonstrated to provide cost savings in excess of 30% to 70% on inspection projects at height.

Acuren utilizes an integrated services model to deliver a broad array of inspection services at heights. Our experience as North America's leading inspection and rope access company has shown that simply providing rope access for inspection is not enough. Achieving the highest level of "Execution Efficiency" and cost savings requires composite crews with trades and inspection technicians working together to deliver the entire work scope.
Some typical inspection scopes of work include, but are not limited to, the following:
Remote inspection – sensor install, acoustic emission, stress analysis, UT probes
NDT
UT, PT, MT, RT, DR, PAUT, ACFM, TOFD
Advanced NDT
Phased Array Ultrasonics (PAUT)
High Temp (PAUT)
Real Time Radiography
Infrared thermography
Laser scanning – hand held laser scanning (corrosion mapping)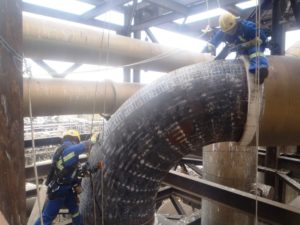 Positive material identification (PMI)
Visual inspection
CWB/CSA/AWS/CWI
API 570, 653, 580
QA/QC
Field engineering
Inspection of equipment and assets:
Tanks
Concrete and stacks
Wind power generation blades
Refractory
Flare tip
Electrical
Coal bunkers
Heaters and furnaces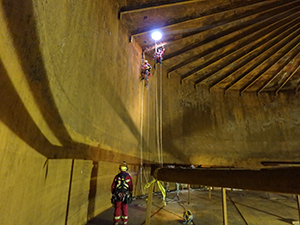 Quality assurance
Quality control
Corrosion under insulation programs
In Situ Metallography
Spring cans
Spring hangers
Pipe hangers and clamps
Pipe supports, guides, shields and saddles
Reach out to our team today at 1-800-218-7450 or email us to find out how we can help execute your scopes of work because we go places, and do things others simply can't.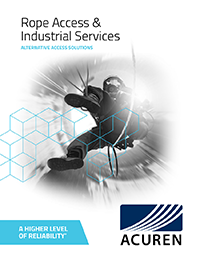 Our Services
Engineering
Acuren's world-class teams of over 100 engineers have extensive experience both in the field and in our laboratories to provide a higher level of reliability.
Inspection
Acuren offers you an unrivaled spectrum of traditional and advanced nondestructive testing and NDE methods to ensure cost-effective and accurate inspection results.
Rope Access Industrial Services
Acuren provides integrated industrial services including inspection, repair and maintenance via rope access using composite crews with multi-disciplined trades, experienced personnel, IRATA certified technicians, and customized access optimization programs.
Success Stories
Reliability Engineering Services Delivers Cost Savings
Richardson Oilseed is one of Canada's oldest and largest fully-integrated crushing, refining, processing and packaging operations. In the absence of timely manufacturer support for a critical equipment issue, the full time onsite Acuren Condition Monitoring Specialist was able to diagnose and provide a detailed correction path on a defective trunion bearing.
Ropes Team Saves Thousands on Pump Box Work
During a planned outage ultrasonic testing and visual inspection revealed that a significant portion of the pump box floor either needed to be repaired, or cut out and replaced.
Related Industries
Oil & Gas
You can trust the skilled professionals at Acuren to offer highly specialized talent and expert services to refining, extraction, and petrochemical industrial clients.
Chemical
Acuren's inspection programs for chemical plants lower the risk of asset failure and support the overall safety and productivity of your operations.
Building & Infrastructure
Structural design engineers, inspectors, nondestructive testing technicians, laboratory technologists and rope access technicians deliver solutions to help you design, construct and maintain your buildings and valuable infrastructure.