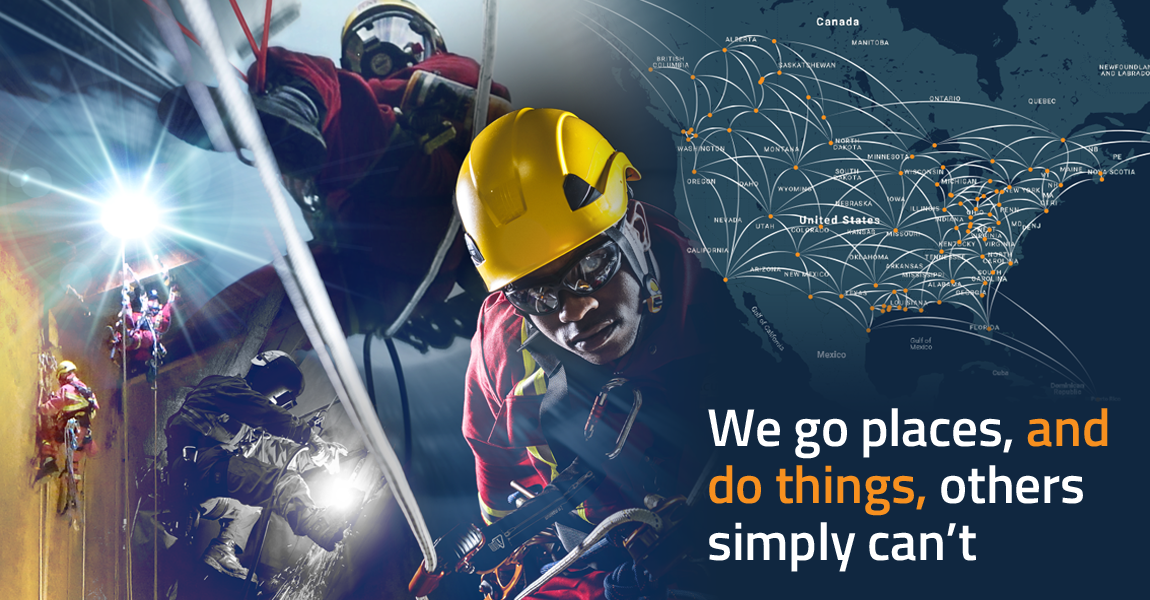 Rope Access Projects
Read our full range of services by downloading the complete Rope Access & Industrial Services brochure.
As customers continue efforts to improve resilience during a time of unpredictable commodity prices, they require maintenance contractors who understand this cycle and can provide evidence-based solutions to improve run time at their facilities, thereby improving efficiency and throughput.
Our composite crews of IRATA or SPRAT Certified tradespeople including electricians, insulators and pipefitters will reduce the reliance on expensive and bulky scaffolding. Our rope access personnel can quickly start and finish short-term maintenance projects, while reducing the total spend on a specific scope of work by not requiring scaffold be set up or taken down, and have maintenance completed in an expedient manner, reducing total downtime.
THE ACUREN ADVANTAGE
There are certain advantages Acuren has over other providers:
Extensive real-time in-house engineering capabilities
Robust drone access program
Single source with in-house trades allows for work-flow and cost efficiences
Being the industry rope access leader for decades affords us the experience advantage
Integrated inspection and maintenance crews with rope access capabilities combine to be one of the most significant drivers of value resulting in reduced schedule, overhead and total cost.  We are a fully embedded contractor delivering both inspection and trades from ropes and have agreements with local trade organizations that allows us to deploy one crew with multiple trades who can support each other and deliver maximum efficiency.
Acuren has a deep pool of IRATA or SPRAT Certified tradespeople that can be dispatched for emergency work, while maintaining a base crew available on a full-time basis.
Please see videos of the following 2 complicated projects that were flawlessly executed by our Rope Access & Industrial Services teams:
Dribble Chute Replacement Using Rope Access
Surge Bin Wear Replacement Project Using Rope Access
As well, we have a number of recent projects to share:
Project: Emergency Water Main Repair on Underside of Bridge
Summary: There are two 30 inch diameter ¼" wall thickness steel water mains, which run along the underside of the bridge over a river way, that provide major water distribution to the community. Acuren's engineering and rope access crew provided a safe, economical, and timely repair solution to get the lines back into operating condition.
To read the full project details, please visit this page.
Project: Flare Stack – Extending Operating Life of Critical Legacy Asset
Summary: This oil and gas customer had a 60 year old flare stack with cracking and corrosion that was approaching its end of life. Due to the cracking and corrosion thinning, there was considerable potential for failure for the flare tip and stack pipe. The cost for flare stack replacement was significant and Acuren offered a solution for life extension rather than stack replacement.
To read the full project details, please visit this page.
Project: Flare Tip Replacement and Coatings Project
Summary:  The four-week project incorporated Acuren's Mechanical, Engineering, and Rope Access Industrial Services to replace an existing flare tip at a refinery, including weld repairs and coatings.
The project utilized rope access to remove the existing flare tip and install a new one, weld repairs on decking, hand tool cleaning of structure, and removal and collection of lead paint, followed with primer, mid-coat, and top coat application.
Acuren completed the job in fraction of the time and at 40% of the cost.
To read the full project details, please visit this page.
Project: Tank Refurbishment Project Saves Client Over $100,000
Summary:  When our large refining customer was faced with the requirement to upgrade one of their major crude storage tanks (260 foot diameter x 64 foot high) they turned to Acuren's rope access and engineering expertise to eliminate unneeded hydrostatic test activities by seeking an exemption through the application of Fitness For Service (FFS) Methodologies as permitted by API 653. The hydrostatic test would have involved pumping in and then emptying approximately 25 Million USG of sea water. The customer was estimating at least a one month schedule requirement to complete the hydrostatic test.
To read the full project details, click here.
Reach out to our team today at 1-800-218-7450 or email us to find out how we can help execute scopes of work on your site because we go places, and do things others simply can't.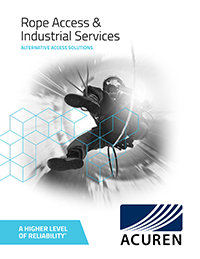 Additional Services
Engineering
Acuren's world-class teams of over 100 engineers have extensive experience both in the field and in our laboratories to provide a higher level of reliability.
Inspection
Acuren offers you an unrivaled spectrum of traditional and advanced nondestructive testing and NDE methods to ensure cost-effective and accurate inspection results.
Success Stories
Reliability Engineering Services Delivers Cost Savings
Richardson Oilseed is one of Canada's oldest and largest fully-integrated crushing, refining, processing and packaging operations. In the absence of timely manufacturer support for a critical equipment issue, the full time onsite Acuren Condition Monitoring Specialist was able to diagnose and provide a detailed correction path on a defective trunion bearing.
Ropes Team Saves Thousands on Pump Box Work
During a planned outage ultrasonic testing and visual inspection revealed that a significant portion of the pump box floor either needed to be repaired, or cut out and replaced.
Related Industries
Oil & Gas
You can trust the skilled professionals at Acuren to offer highly specialized talent and expert services to refining, extraction, and petrochemical industrial clients.
Chemical
Acuren's inspection programs for chemical plants lower the risk of asset failure and support the overall safety and productivity of your operations.
Building & Infrastructure
Structural design engineers, inspectors, nondestructive testing technicians, laboratory technologists and rope access technicians deliver solutions to help you design, construct and maintain your buildings and valuable infrastructure.