As the only company with this range of capabilities under one roof, Acuren builds on the synergies between the departments to provide optimized and efficient programs for our clients.
As a world class service provider with vast experience and expertise, we work with our clients to deliver a well-defined scope of work, budget and schedule. When identifying the deliverables required, we look for cost saving solutions to benefit our client including Rope Access Industrial Services (RAIS) and Remotely Piloted Aircraft System (RPAS). Capitalizing on synergies between Acuren's departments often leads to bundling of services that results in measurable cost savings.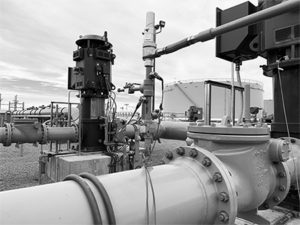 Acuren provides our clients a single point of contact, supported by an experienced technical team that is dedicated to delivering services from program development, engineering and inspection. Following this model increases the consistency of the product our clients receive and thus meets or exceeds their expectations.
Acuren utilizes the newest technologies on the market. Our commitment to innovation is ongoing, that is why when we identify a need we invest in developing tools that solve the need (Laser 3D, HawkEye, etc.).
A FULLY INTEGRATED INTEGRITY SOLUTION APPROACH
PROGRAM
DEVELOPMENT
ENGINEERING
SUPPORT
INSPECTION
SUPPORT
ACUREN'S CATHODIC
PROTECTION GROUP
ACUREN'S
PLI TEAM
Program development, implementation and regulatory support for your pipelines, tanks terminals and Processing Facilities.
Engineering support such as Engineering Assessments, Risk Assessments, Pipeline Annual Health Checks, Fitness for Service, Failure Analysis.
Inspection support includes, Visual Inspection, NDE and Advanced NDE, utilizing RAIS and UAV when beneficial.
Acuren's Cathodic Protection (CP) group is a full service CP provider, providing our clients with Engineering Design, AC Mitigation, Material Selection, Construction, Maintenance, as well we have our own proprietary equipment "HawkEye" for conducting Indirect Inspection survey solutions.
Acuren's PLI Team provides Advanced Services and highly trained personnel for any type of Pipeline Integrity Project you may have. We firmly believe in "Better Data = Better Decisions"