What is a career in nondestructive testing
Nondestructive testing makes the world a safer place. A career in nondestructive testing means you will help to prevent major calamities potentially resulting from the rupture of a plant component, the failure of a safety critical part, or a pipeline explosion. It is a challenging and rewarding field that offers rapid growth and specialization.
Few professions span the variety of equipment and infrastructure that nondestructive testing does. From process industries, such as refineries and pulp & paper mills, to oil & gas pipelines, to rides at amusement parks, to specialty aerospace parts, a career in nondestructive testing offers the chance to be involved in many diverse areas of interest.
Nondestructive testing careers at Acuren
In addition to competitive compensation and benefit packages, we offer the training and experience required to advance your career in nondestructive testing. Acuren's nondestructive testing technicians move from entry level trainee through Level II or Level III in one or more of the principal nondestructive testing methods:
Penetrant (PT)
Magnetic Testing (MT)
Radiographic Testing (RT)
Ultrasonic Testing (UT)
Eddy Current (ET)
Visual Inspection (VT)
We track training and on-the-job hours to ensure that our technicians are prepared to test for Level II certifications in multiple disciplines within the first two years. Interested and motivated employees can receive further training in advanced nondestructive testing methods, including Phased Array Ultrasonic (PAUT), Time of Flight Diffraction (TOFD), Computed Radiography (CR), and Digital Radiography (DR).
Your certifications, skills, interests and experiences help shape the assignments you'll work on. As you gain more experience, you will narrow your focus. This might be inspection work in large plants, field-based inspection of pipelines, in-lab inspection of aerospace parts, or call-out assignments to a variety of plants located around your base of operation. You choose the path your career will take.
At Acuren we are proud of our many female technicians and we encourage other women interested in a career in NDT to speak with us at 780-416-8706. Watch the following female technician feature videos to learn more about their stories and what led them to this career path.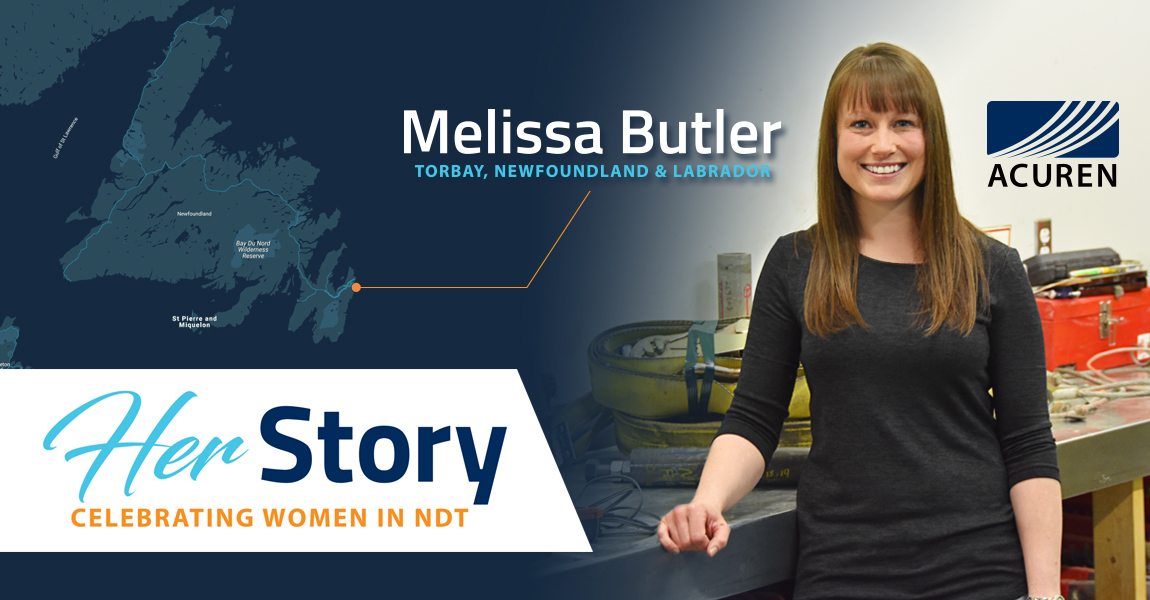 Meet Melissa. Melissa is one of Acuren's amazing women in NDT. We are proud to feature her story.
Click on the image to watch the video.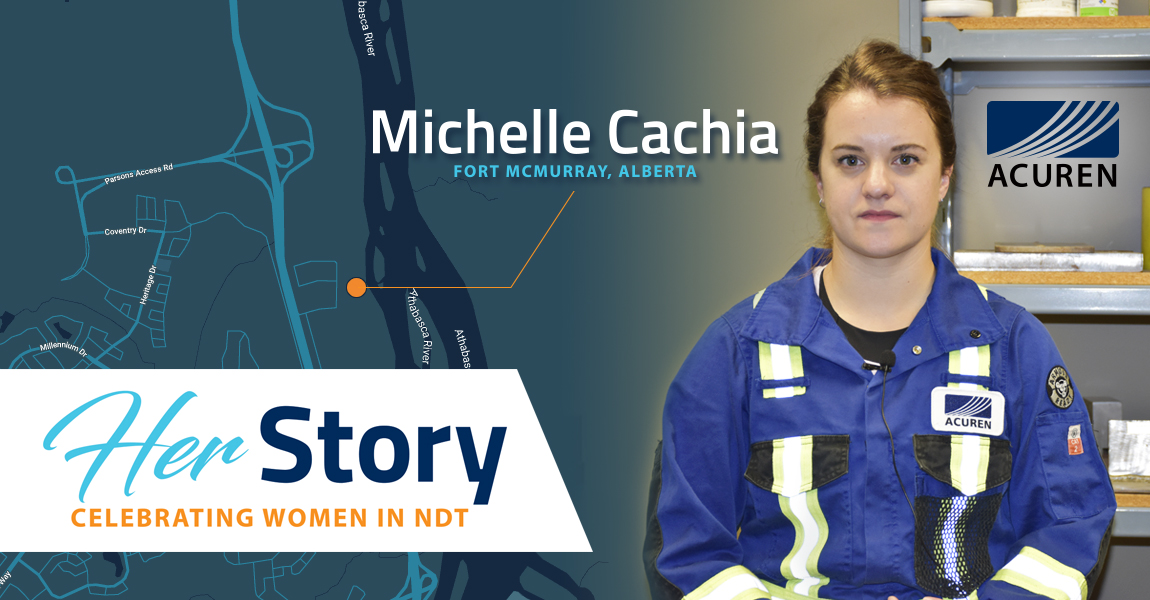 Meet Michelle. Michelle is another one of Acuren's amazing women in NDT.
Click on the image to watch the video.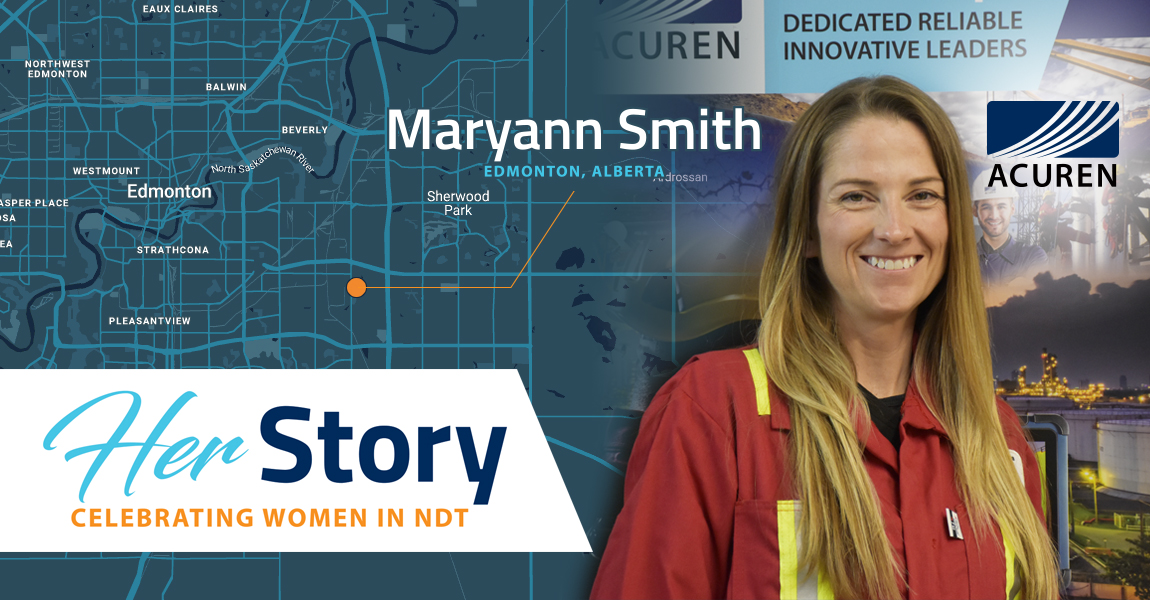 Meet Maryann, one of Acuren's amazing women in NDT.
Click on the image to watch the video.
Meet Elyse, one of Acuren's amazing women in NDT.
Click on the image to watch the video.
Meet Chris, one of Acuren's amazing women in NDT.
Click on the image to watch the video.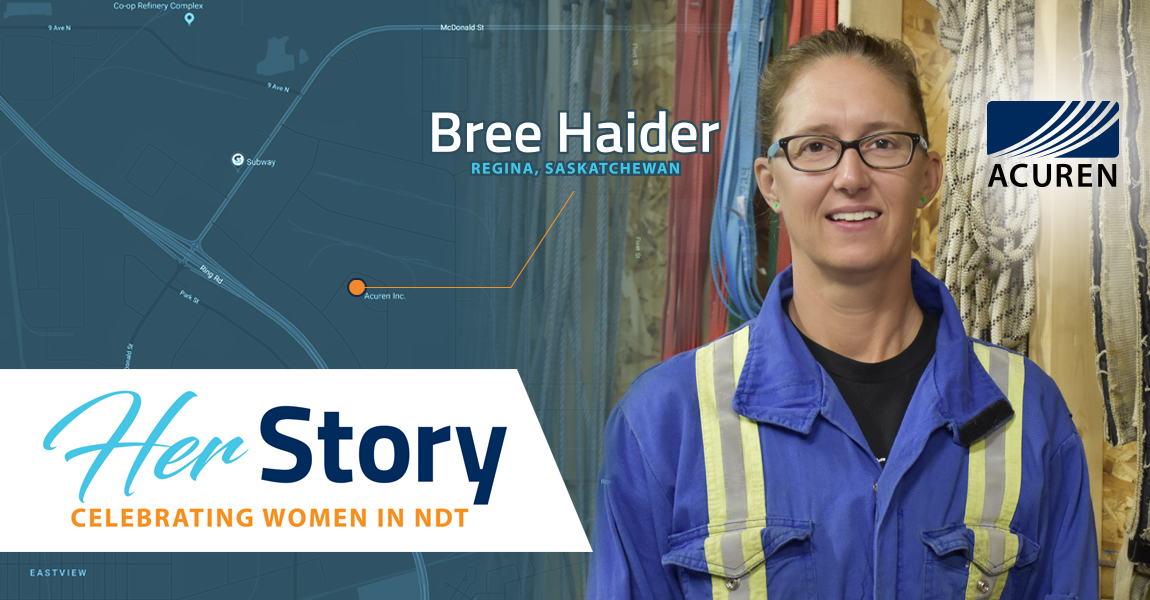 Meet Bree, one of Acuren's amazing women in NDT.
Click on the image to watch the video.
What is nondestructive testing?
Nondestructive testing based inspections assist owners of large process industry facilities understand the condition of their plants and what maintenance activities they should initiate to prevent unexpected problems.
Nondestructive testing provides inspection methods to examine safety critical parts for the automotive and aerospace industries. nondestructive testing permits a non-invasive look inside the part for defects.
Nondestructive testing is used to inspect infrastructure in North America. Everything from bridges to tension cables in concrete to railroad track are inspected every day using nondestructive testing methods.
Nondestructive testing has a significant role in the operation of nuclear and fossil power plants to assess the structural integrity of the plan components and to evaluate the remaining life of turbines, steam generators, condensers and other critical systems.
Our Services
Engineering
Acuren's world-class teams of over 100 engineers have extensive experience both in the field and in our laboratories to provide a higher level of reliability.
Inspection
Acuren offers you an unrivaled spectrum of traditional and advanced nondestructive testing and NDE methods to ensure cost-effective and accurate inspection results.
Rope Access Industrial Services
Acuren provides integrated industrial services including inspection, repair and maintenance via rope access using composite crews with multi-disciplined trades, experienced personnel, IRATA certified technicians, and customized access optimization programs.
Success Stories
Reliability Engineering Services Delivers Cost Savings
Richardson Oilseed is one of Canada's oldest and largest fully-integrated crushing, refining, processing and packaging operations. In the absence of timely manufacturer support for a critical equipment issue, the full time onsite Acuren Condition Monitoring Specialist was able to diagnose and provide a detailed correction path on a defective trunion bearing.
Ropes Team Saves Thousands on Pump Box Work
During a planned outage ultrasonic testing and visual inspection revealed that a significant portion of the pump box floor either needed to be repaired, or cut out and replaced.
About Acuren
Hellier Training
Hellier has been a leading provider of classroom training and level III consulting since 1986 and has trained over 40,000 NDT and API professionals for all industrial inspection markets.
Vision & Values
Safety, integrity, ownership, and innovation. The Acuren values are central to our success, and to yours.
Safety
We believe all incidents are preventable and that every employee has both a right and an obligation to support safe operations. Our commitment to safety is fundamental to our operations – with management oversight and ongoing training supported by unrelenting discipline.