NDT and API Prep Customized Training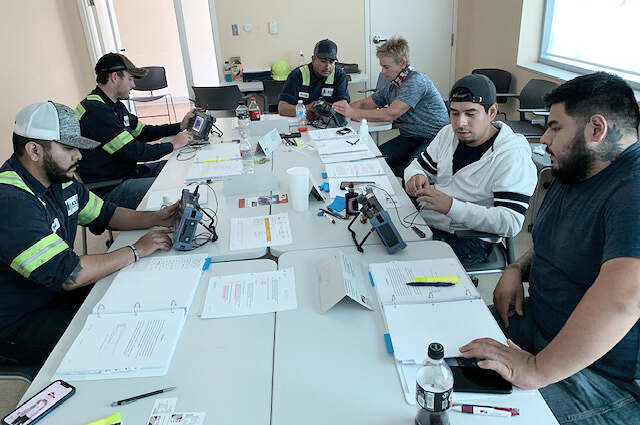 Hellier has been one of the top training providers for generations, starting in 1986.
Hellier's expanded capabilities help provide you customized offerings to fit every need including NDT classroom training, online & blended training, and API training.
Today Hellier's divisions provides three type of courses.
Hellier NDT offering over 50 classroom courses in all NDT methods
CodeWest offering API exam preparatory classes for the most popular API certifications
WorldSpec offering NDT training online
Contact AdminHouston@hellierndt.com or 1-888-282-3887 if you have any questions.
View NDT Training Courses | View API Prep | View Online Training Courses
---
Need customized training?

We can build a course to fit your requirements at any time, any date on site or at your location.
---
On average, Hellier offers more than 104 classes per year and educates more than 3,000 students.
To support our partners effectively, Hellier has centrally located training facilities. Our training facilities have unique features to aide in the training process including classroom and shop areas for hands on application with a full-size gas turbine and pressure vessels for performing NDT testing. Our proven teaching process includes classroom discussion of knowledge that is followed by showcasing of the technology and ends with every student demonstrating performance capability. All Hellier NDT courses can also be offered on-site at your facility.
The CodeWest courses for API exam prep in 510, 570, 653 and 1169 are taught in the Hellier Houston facility and are also offered on-site at any location worldwide.
WorldSpec online training enables you to reduce travel and time away from work. It is important to realize that this training method covers all theory and the body of knowledge but hands-on workshop or formal on the job training is necessary and recommended to produce a quality NDT technician. Our "Blended Training" ensures our online training is a great personal learning experience by assigning a Level III mentor to every online student. This has proven to be a great training plan for companies for over 10 years.
Hellier not only prepares leaders in NDT through leading courses but also helps them built strong networks within the industry by employing world class leading instructors with vast industry experience. Our instructor's education includes PHDs, engineering instruction, ACCP Level IIIs in all methods, and API certified.