V-Deck™ Access Platform
Traditionally, professionals inspecting and maintaining sizable structures like bridges and oil refineries use scaffolding to access high and remote areas. However, this strategy often puts employees in dangerous situations and can lead to higher labor costs and downtime. A V-Deck™ Suspended System is a temporary and modular suspended access platform offering organizations a secure and stable work environment. This exciting alternative reduces the risk of falls and dropped objects while speeding up inspection and maintenance times, keeping employees safer and your projects on schedule.
Acuren is the leading provider of rope access and integrated industrial solutions throughout North America. We supply businesses and organizations with cost-effective strategies that support your unique goals. With decades of experience, our professionals are some of the best in the industry and are committed to providing the support you can count on to upgrade your workflow.

The Value of V-Deck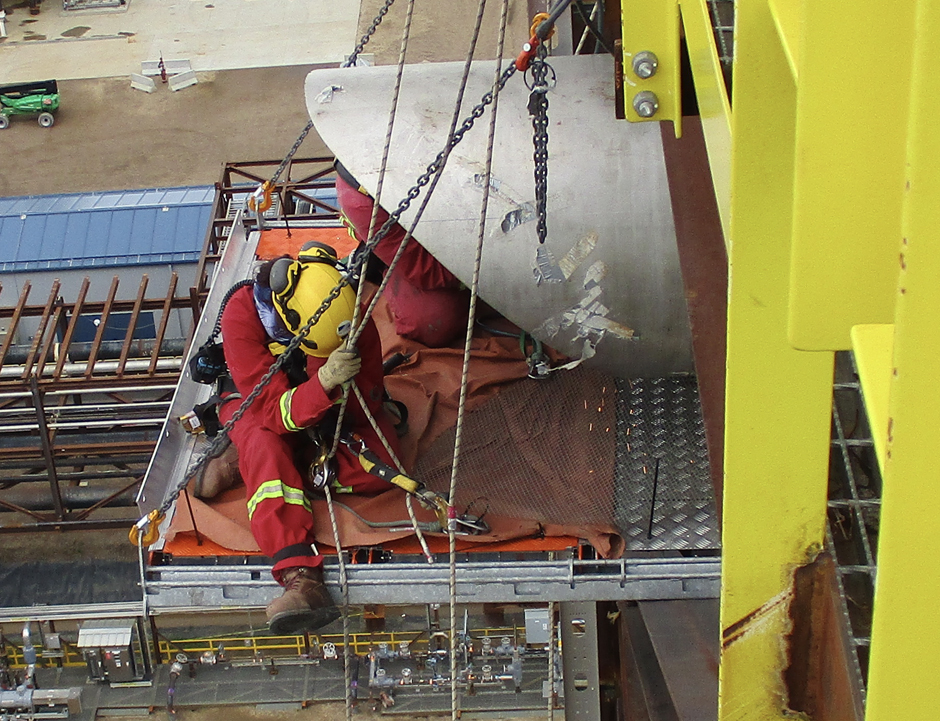 Safely and effectively perform maintenance activities from inspection to repairs with a V-Deck™ System beneath your feet. This fully modular access platform works seamlessly with existing underdeck constructions and eliminates any need for large tower scaffold builds. As a multidirectional structure, it can be raised, lowered, kicked out and tilted to adhere to your project demands and equipment specifications, regardless of size. The ability to build horizontally and vertically will help your team access parts of your equipment you never have before.
The V-Deck™ from Velo Tech Systems is the ideal product for creating stable industrial work platforms, suspended walkways and under-bridge access points. It uses high-tensile V-Trusses™ to support working from height. Together with its Grade 10 steel chains and high-strength steel locking clamps, this product can give your staff the confidence to work quickly and confidently to keep your operations productive and within budget. Using the V-Deck™ will also help you:
Reduce project time: These systems provide up to 88% time savings, preserving more of your budget. Professionals can install them quite easily, getting to the heart of your project quickly and efficiently.
Preserve equipment integrity: The V-Deck™ platform is five times lighter and has 75% less volume than traditional access methods. With a reduced weight, your equipment and structures experience a lighter imposed load with minimal risk of damage.
Increase safety: This platform maintains a 4:1 safety factor for all of its components. Its low-profile design allows your team to use it within many environments, as it can be installed in confined spaces and provides the stability to withstand high wind and water forces.
Protect coatings: You'll have more confidence in installing a high-quality coating with the V-Deck™ system. Your team can easily move the structure's clamps throughout the site, leaving behind a clean, contact point-free coating finish.
Uses of Our Industrial Access Platform
When you're working at height, Acuren has a variety of solutions including V-Deck to ensure the ideal system for your project. It can take any form you need to scale expansive equipment and structures effectively. This product is commonly used on bridges, refineries, jetties and boilers to assist with maintenance and repair applications.
The V-Deck™ platform is also the perfect tool to conveniently perform routine inspections and ensure your machines are in top condition. Our technicians can streamline your inspection process using this product to perform Infrared Thermography, Non-Destructive Testing, Digital and Computed Radiography, and Moisture Detection Imaging services.
At Acuren, we provide design and engineering support to help you create the best solution for your tasks. The modular and ergonomic design is what makes this product stand out, allowing access for anyone who needs to get their eyes on a project. It also allows you to seamlessly adhere to a variety of industry conditions, including:
Trust Acuren to Deliver Cutting-Edge Solutions
Inaccessible isn't a word in our vocabulary. At Acuren, we go places that most never will. We are the premier provider of access solutions in North America, with over 20 years of industry experience, and we've developed many cutting-edge, attentive solutions to fully satisfy our clients' needs. Our team will work closely with you to understand your project goals and operational demands, designing a custom access strategy to protect your budget while elevating the productivity and safety of your operations.
Whether you're working on a bridge in the city or on an oil rig in the ocean, Acuren is ready to mobilize to wherever you're located. We work out of 90 locations between the United States and Canada, which allows us to provide local support anywhere on the continent.
Our work is supported by more than 100 certified engineers and over 4,000 certified and well-trained field professionals. By your side through every win and every obstacle, our experts will provide advanced solutions that address the root of your issues and develop a program that saves you money every year.
Working with Acuren comes with certain advantages, including:
Integrated solutions addressing a variety of needs.
Expertise built on decades of industry experience.
State-of-the-art technologies.
Collaborative service approach.
Contact Us to Learn More About Our Access Platform Systems
The V-Deck™ Suspended Platform is an industry-leading product that can save you time and money. At Acuren, our team has the knowledge and resources to provide reliable alternative access platform services you can count on. We have decades of experience serving the foremost industrial firms across multiple industries and are committed to delivering a solution that enhances the efficiency and safety of your operations.
Reach out to our team online to learn more about what the V-Deck™ platform and our services can do for you.