Acuren and Tacten
Local to the Bonnyville Cold Lake Region
Enhancing Asset Reliability and Maintenance Efficiency: Acuren Inspection and Tacten Rope Access Industrial Solutions in Northern Alberta Thermal Oil Extraction Activities.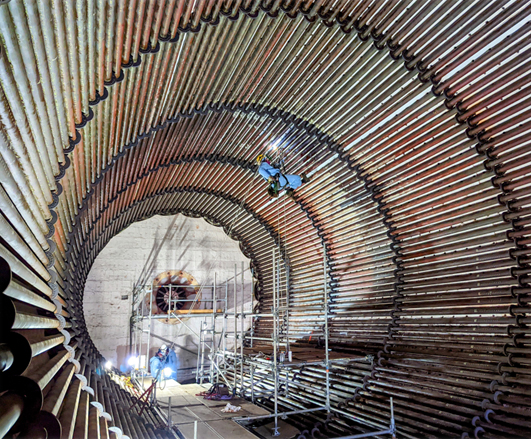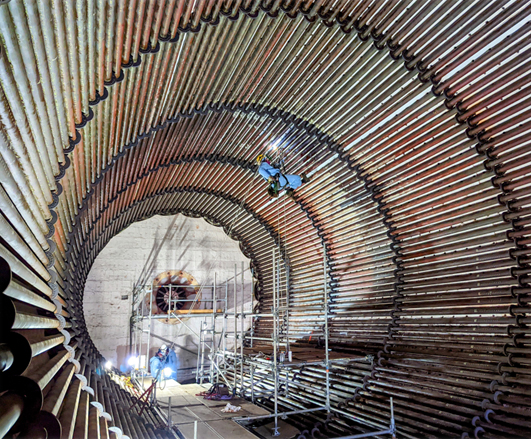 Northern Alberta's thermal oil extraction activities play a significant role in meeting global energy demands. However, ensuring the reliability and maintenance of assets in this challenging environment is crucial. Acuren Inspection and Tacten Rope Access Industrial Solutions have emerged as leading providers of cost-saving technologies that improve asset reliability and maintenance efficiency in this sector. Take advantage of benefits offered by these innovative solutions, in optimizing operations and reducing costs.
Advanced Inspection Techniques: Acuren Inspection utilizes cutting-edge inspection technologies to identify and assess potential issues in thermal oil extraction assets. Through techniques like advanced nondestructive testing (NDT) and remote visual inspection (RVI), Acuren can detect flaws, corrosion, and other defects early on. By conducting regular inspections, operators can proactively address problems before they escalate, reducing the risk of unexpected failures and associated downtime. This approach improves asset reliability and extends their lifespan, leading to significant cost savings over time.
Enhanced Maintenance Strategies: Tacten Rope Access Industrial Solutions specializes in providing efficient and safe access solutions for maintenance and repair tasks in challenging environments. By employing highly trained rope access technicians, Tacten eliminates the need for expensive and time-consuming traditional access methods like scaffolding or cranes. This agility allows for quick response times and efficient execution of maintenance activities, reducing downtime and associated costs. Tacten's expertise in rope access techniques enables them to access even the most inaccessible areas of thermal oil extraction assets, ensuring comprehensive maintenance coverage.
Cost-Effective Asset Management: The combination of Acuren Inspection's advanced inspection techniques and Tacten's efficient maintenance strategies results in a comprehensive asset management solution that saves costs throughout the entire lifecycle. Early detection of defects and proactive maintenance minimize the likelihood of unplanned shutdowns and expensive emergency repairs. By implementing predictive maintenance strategies, operators can optimize maintenance schedules, reducing the frequency of maintenance interventions and associated costs. This approach allows for better planning and allocation of resources, ensuring improved asset reliability while controlling expenditures.
Safety and Risk Mitigation: Both Acuren Inspection and Tacten Rope Access prioritize safety in their operations. Acuren's remote inspection techniques minimize the need for personnel to physically access hazardous areas, reducing the risk of accidents and ensuring compliance with safety regulations. Tacten's rope access technicians undergo rigorous training and adhere to strict safety protocols, ensuring safe execution of maintenance tasks at heights or in confined spaces. By minimizing safety incidents, these solutions protect workers and prevent costly delays caused by accidents or injuries.
Data-Driven Decision-Making: Acuren Inspection and Tacten Rope Access embrace digitalization and utilize data-driven approaches in their operations. Acuren's inspections generate vast amounts of data, which can be analyzed to identify trends, patterns, and potential areas of improvement. This valuable information allows operators to make informed decisions regarding asset maintenance and performance optimization. Tacten's digital platforms enable real-time tracking of maintenance activities, providing visibility into project progress, resource allocation, and cost control. By leveraging data, operators can achieve greater efficiency, cost-effectiveness, and continuous improvement in their operations.
Conclusion: Acuren Inspection and Tacten Rope Access Industrial Solutions have revolutionized asset reliability and maintenance efficiency in Northern Alberta's thermal oil extraction activities. By combining advanced inspection techniques, efficient access solutions, cost-effective asset management strategies, safety measures, and data-driven decision-making, these companies contribute to significant cost savings while ensuring optimal performance and extended asset lifespans. The industry's reliance on these innovative solutions is poised to enhance the sustainability and productivity of thermal oil extraction operations in the region.
Visual Inspection
Visual Inspection
Acuren Inspection's in-service and visual inspectors are renowned for their expertise, experience, and utilization of advanced technologies. With rigorous training and continuous learning, they possess the skills to accurately assess assets, detect potential issues, and provide actionable recommendations. Equipped with state-of-the-art tools, including advanced nondestructive testing techniques, Acuren's inspectors conduct thorough and precise inspections. Their strict adherence to compliance and safety standards ensures inspections are conducted safely and efficiently. Known for their attention to detail, they can identify subtle signs of damage or degradation, enabling proactive maintenance interventions.
Acuren's inspectors provide comprehensive reporting, communicating findings effectively with clients. With a customer-centric approach, they tailor their services to meet specific needs and foster strong relationships. Embracing continuous improvement, they stay updated with industry advancements, delivering high-quality inspection services. Overall, Acuren Inspection's in-service and visual inspectors excel in their field, offering reliable, accurate, and customer-focused inspection solutions.
Nondestructive Testing (NDT)
Nondestructive Testing (NDT)
Nondestructive Testing (NDT) Services in Thermal Operations for Corrosion, Erosion, and Stress Corrosion Cracking Detection.
Nondestructive Testing (NDT): plays a vital role in ensuring the integrity and safety of assets in thermal operations, particularly in detecting corrosion, erosion, and stress corrosion cracking resulting from high-temperature steam activities. NDT techniques enable the evaluation and assessment of materials and components without causing damage, facilitating the early detection of potential defects and failures.
Ultrasonic Testing (UT): UT is widely used in thermal operations to identify corrosion and erosion. It utilizes high-frequency sound waves to penetrate materials and generate echoes that reveal internal flaws. UT can detect wall thickness loss due to corrosion and erosion, enabling operators to monitor the condition of pipes, vessels, and other components exposed to high-temperature steam. Regular UT inspections help identify areas prone to deterioration, enabling proactive maintenance and preventing unexpected failures.
Radiographic Testing (RT): RT involves the use of X-rays or gamma rays to create images of the internal structures of materials. It is effective in detecting corrosion, erosion, and stress corrosion cracking in critical components such as welds and piping. RT enables the identification of internal defects that may be invisible to the naked eye, allowing for accurate assessment of the asset's condition and the implementation of appropriate maintenance measures.
Advanced NDT Techniques: In addition to conventional NDT methods, advanced NDT techniques offer enhanced capabilities for detecting and assessing corrosion, erosion, and stress corrosion cracking in thermal operations. These techniques include: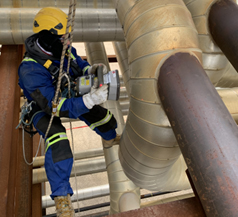 Digital Radiography (DR): DR employs digital detectors to capture X-ray images, providing enhanced image quality, faster processing, and reduced radiation exposure. It enables the detection of corrosion, erosion, and stress corrosion cracking with greater precision.
Moisture Detection Imaging: Moisture detection imaging (MDI and Infrared Thermography) are valuable nondestructive testing (NDT) technique that plays a significant role in thermal operations, particularly in identifying and assessing moisture-related issues. Moisture intrusion can lead to corrosion, degradation, and insulation failure, which can compromise the integrity and efficiency of thermal systems.
Here is an overview of moisture detection imaging and its relevance to thermal operations: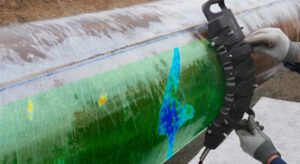 Guided Wave Testing (GWT): GWT uses low-frequency ultrasonic waves that travel along the length of pipes or structures, allowing for the inspection of long sections without the need for extensive access points. This technique is effective in detecting corrosion and erosion in inaccessible areas, reducing inspection time and costs.
Phased Array Ultrasonic Testing (PAUT): PAUT employs multiple ultrasonic beams to create detailed images and evaluate the condition of materials. It provides accurate sizing and mapping of defects, offering improved detection and characterization of corrosion, erosion, and stress corrosion cracking.
By employing these advanced NDT techniques, thermal operations can benefit from improved detection sensitivity, accurate defect sizing, and comprehensive asset assessment. Early identification of corrosion, erosion, and stress corrosion cracking allows for timely maintenance interventions, mitigating the risk of failures and optimizing asset reliability. Regular implementation of NDT inspections, including advanced techniques, is essential for ensuring the long-term integrity and safety of assets in thermal operations.
Remotely Operated Inspection Capabilities
Remotely Operated Inspection Capabilities
In the vast and challenging world of industrial inspections, where safety and accuracy are paramount, one company stands out for its innovative solutions. Acuren introduces their Remotely Operated Inspection Systems (ROIS), a marvel of technology designed to navigate hazardous environments with precision and efficiency.
High above the ground, Acuren's Inspection UAVs take flight, equipped with advanced visual capabilities that capture high-resolution images like never before. With unparalleled clarity, they provide a bird's-eye view of assets, enabling inspectors to detect even the smallest anomalies and assess the condition of structures with precision.
But the UAVs' capabilities don't stop there. With thermography, they can reveal the invisible, capturing thermal patterns that expose hidden defects. From overheating equipment to insulation anomalies, these thermal images allow inspectors to identify potential risks before they escalate, ensuring the safety and reliability of assets.
And that's not all! Acuren's ROIS includes emissions detection capabilities, which enable the identification of gas leaks and other hazardous emissions. With their finely tuned sensors, these systems play a vital role in ensuring compliance with environmental regulations and safeguarding the well-being of workers and communities.
Now, let's descend into the depths of hazardous environments. Acuren's explosion-proof robotic crawlers boldly venture where others cannot. Designed to withstand extreme conditions, these crawlers meticulously navigate confined spaces, providing high-resolution inspections that leave no area unexplored. With UT capability, they assess the integrity of critical assets, identifying potential corrosion and degradation that could compromise safety and performance.
But what truly sets Acuren's ROIS apart is the power of data. Each inspection generates a wealth of information that is carefully analyzed by skilled experts. Armed with this knowledge, operators can make informed decisions regarding maintenance, repairs, and asset management, optimizing performance and reducing downtime.
In the ever-evolving landscape of industrial inspections, Acuren's Remotely Operated Inspection Systems soar above the competition. With their state-of-the-art UAVs capturing high-resolution visual and thermal data, emissions detection capabilities, and explosion-proof crawlers equipped with UT capabilities, they ensure the safety, reliability, and compliance of assets in the most challenging environments. Acuren's ROIS, a true testament to innovation and dedication in the world of industrial inspections.
Remotely Piloted Inspection Systems
Alternative Access & Industrial Solutions
Alternative Access & Industrial Solutions
In the dynamic world of Upstream Thermal Oil Extraction, staying ahead of the curve is essential. Acuren and Tacten Alternative Access Solutions embrace innovation and cutting-edge technology, constantly pushing boundaries to deliver the most advanced industry solutions. By partnering with us, you gain access to a wealth of knowledge and expertise that propels your maintenance strategy to new heights. We bring a fresh perspective, utilizing the latest industry trends and practices to future-proof your operations.
Imagine a world where maintenance spend is optimized, where every dollar is strategically allocated to maximize efficiency. Acuren and Tacten Alternative Access for inspection and industrial services are the masters of cost-effectiveness, providing tailored solutions that save money without compromising on quality. By utilizing innovative techniques with rope access, the need for costly and time-consuming traditional methods is eliminated, reducing overall spend while achieving exceptional results.
We all know that downtime can be the arch-nemesis of productivity and profitability. That's why our industrial solutions are specifically designed to minimize equipment downtime. Our highly skilled professionals, armed with state-of-the-art tools, swiftly detect and address issues, keeping your operations running smoothly. By optimizing maintenance schedules and proactively addressing maintenance needs, we ensure that your equipment is up and running, maximizing your productivity and minimizing costly disruptions.
Our services unlock the power of increased asset reliability. Through our deep expertise and cutting-edge supporting technology, we uncover hidden vulnerabilities, identify potential risks, and mitigate them before they escalate into costly disasters.
The time has come to take control and optimize your operations maintenance strategy. Embrace the extraordinary power of Acuren and Tacten Alternative Access. Let us save you money, enhance asset reliability, and minimize equipment downtime. Together, we will propel your business to unprecedented heights of success. The future is bright, and the possibilities are limitless.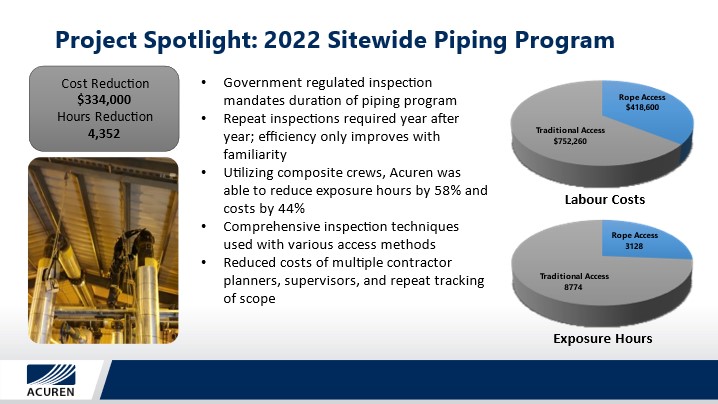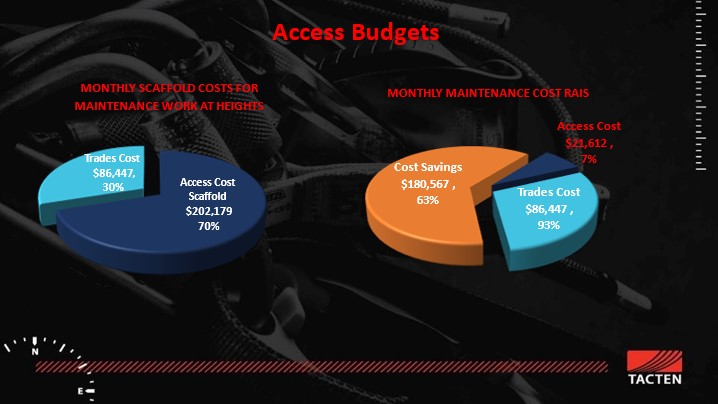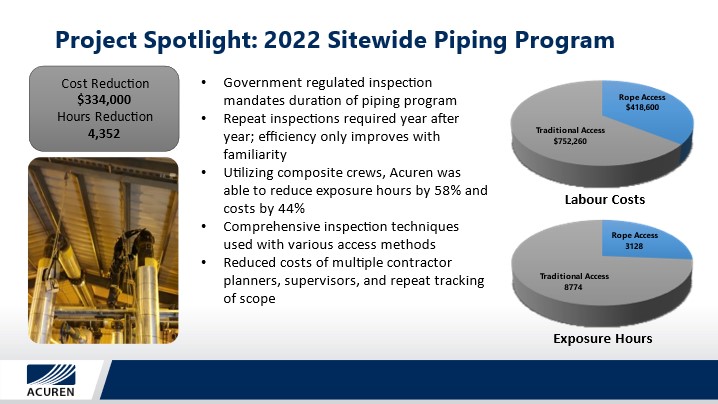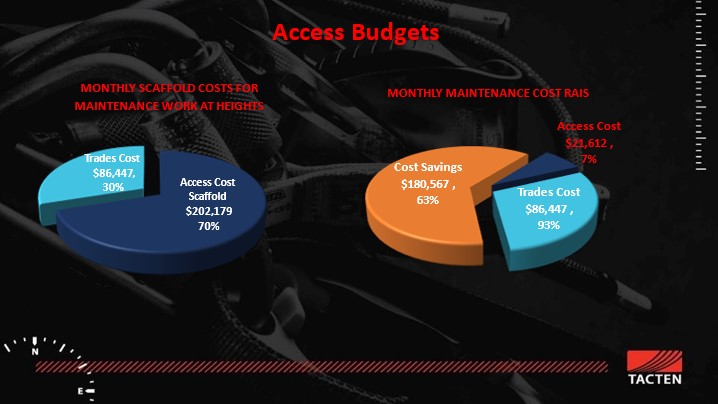 V-Deck™ Suspended Platforms is just one cutting edge tool which provides an additional method to access hard to reach areas, eliminating the need for large tower scaffold builds. Our V-deck solution can be used for a variety of applications accessing localized areas at heights on towers, pipe racks, structures (buildings and bridges and access platforms. V-deck can be easily set up for localized hording of area's requiring abatement, protection from the elements and for blasting and coating activities.
V-Deck™ is a modular temporary suspended work platform that provides a strong and stable work platform. It is designed to withstand high wind and water wind forces, making it suitable for a wide variety of work locations. It is a lightweight and ergonomic solution.
It has been used widely globally in a variety of sectors including Civil Infrastructure; Oil & Gas; Power Generation and Shipping. Velo Tech Systems provides product training, and design & engineering. We work closely with clients, offering all the support they need to be successful with the V-Deck™.
Compared to tube and fit scaffold, V-Deck™ delivers:
Up to 88% Time Savings
5 x Lighter
75% Less Volume
100% Less Contact Points
80% Reduction in Component Parts
Higher Factor of Safety (4:1)
Laboratory Testing
Laboratory Testing
Acuren has a network of material testing laboratories across North America that can support your routine and research-based testing needs. This includes standard offerings such as chemical analysis, tensile testing (including elevated temperature testing), Charpy impact testing, bend testing and hardness testing to help ensure new materials meet all required specifications and confirmation of the material properties of existing assets.
More advanced materials testing/characterization capabilities such as crack tip opening displacement (CTOD) testing and hydrogen embrittlement testing of threaded fasteners, and HIC testing for various components are also offered.
Our labs are ISO 17025 accredited and backed by our materials engineering experts so that you can always have confidence in your testing results.
WHY ACUREN?
A fully integrated approach, combining engineering, inspection, NDE, industrial trades and rope access services. Acuren leads the industry as the one true supplier that can be the single turnkey vendor to support your operation.
Acuren innovation, advanced applications, and cutting-edge inspection solutions result in significant cost savings, reducing unnecessary mechanical scopes (insulation stripping only where required), saving precious time and reducing material waste while limiting exposure to potential hazards.
Leading provider of robust programs, founded in sound engineering practice through unparalleled industry knowledge, leveraging decades of experience.
Rigorous training and competency programs for personnel.
Diagnose the root cause, not the symptoms.
Design the right program and tools for the application