Drone Inspection Services
Industrial inspections are vital to keeping equipment in top condition and providing real-time awareness of your operations. However, when you're working with large infrastructure or machines across broad areas, these inspections can lead to long interruptions and expensive labor costs.
The use of drones for industrial inspections speeds up the process and decreases the associated expenses. Drones fly through the air, navigating in and around buildings, bridges, and tanks. They're able to cover tall, large or remote areas. They capture images and videos that professionals use to identify issues needing repairs or maintenance.
At Acuren, we utilize remotely piloted aircraft systems (RPAS) to support our clients' needs. We combine expertise and technology in our approach, providing internal and external inspections that deliver unmatched value. We have the know-how and resources to deliver cutting-edge services your organization can depend on for years to come.
The Value of Drone Inspection Services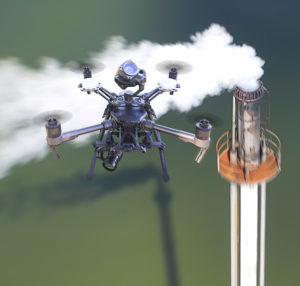 Drones act as inspectors' eyes, allowing them to efficiently examine isolated areas and collect a wide range of data. Their cameras can collect a substantial volume of videos and pictures of radio towers, large water tanks, expansive fields, and hard-to-reach roofs. These visuals are vital to inform planning, maintenance, and compliance strategies. Drone inspections are efficient and affordable, allowing you to increase the number of inspections you perform throughout the year.
Aerial inspection drones offer additional advantages beyond lowering costs and keeping your operations on track. Drones create a safer and more secure inspection process that avoids putting your employees or contractors in potentially dangerous situations. Trained professionals remotely operate the unmanned aerial vehicles (UAVs) and eliminate the need for expensive temporary support structures like scaffolding.
What Industries Utilize Drone Inspection Services?
More sectors than ever are using drones within industrial inspection applications to save time and money. These tools can monitor crop health, verify the strength of a weld, locate cracks in pipes, and effectively scale bridges in record times. Aerial inspection drones can even enter high-risk or confined areas like destruction zones following a hurricane. They can reach underground caverns utilized by mining companies.
Some of the industries that take advantage of drone inspection services include:
Transmission Lines & Utilities
Acuren's Drone Inspection Expertise
Acuren is your go-to partner for RPAS services throughout North America. Our team has what it takes to accelerate your inspection procedures while delivering exceptional results that drive your organization forward. We'll support you by informing you of potential issues no matter how remote they are.
You can count on our drone inspection expertise to keep your daily operations on track. We've designed our services to align with strict regulatory and insurance standards, either meeting or exceeding all requirements set forth by the U.S. Federal Aviation Administration and Transport Canada.
But what else puts our services above the rest?
Our Pilots and Crew Members
Our services wouldn't be possible without an unrivaled team of pilots and crew members. We work with only the best and most thoroughly trained pilots in the industry, ensuring they hold the required government and federal aviation licensing to operate our remotely piloted aerial vehicles safely and efficiently. Many of our team members come to us with previous experience working at NASA or the Department of Defense. Others have worked as UAV instructors, manned aircraft pilots, licensed engineers, or inspectors.
Beyond their qualifications, our team is committed to their work. They have the skills to analyze and interpret collected data before presenting you with a detailed report you can understand. Technicians will leave you with comments, annotations, and suggestions on how to repair a potential problem, extend the life span of your equipment, or make adjustments to adhere to local and federal regulations. Regardless of your situation, our licensed pilots and crew members are ready to offer support.
Our Cutting-Edge Technology
At Acuren, we use top-rated drones for industrial inspections and confined space inspections to yield informative data that drives meaningful results. Our drones are equipped with premium cameras and sensors capturing various pieces of information. We leverage this industry-leading technology for NDT testing, laser scanning, infrared thermography, UT measurements, and many other services.
We put our collected data through highly sophisticated software capable of translating the information into a viewable format called 3D point cloud models. These interactive models allow us to locate and diagnose various issues. The use of sensors and software that align with your objectives will ensure your operations remain productive, safe, and profitable.
The Acuren Advantage
Acuren is a world-leading provider of inspection, NDT testing, engineering, and rope access services. We operate out of 80 locations throughout North America. Our local presence and global network mean that our team can mobilize quickly and address your challenges immediately. With over 40 years of experience working with the world's largest and most revolutionary firms, we know how to deliver cost-effective, turnkey solutions that optimize your organization's safety and productivity while reducing cost.
Partner With an Organization You Can Trust
If you're searching for an RPAS partner, Acuren is the organization you can trust. We partner with a variety of trusted manufacturers including Elios, Voliro, Avestec, and Skydio. We continue to innovate every day, striving to improve upon our strategies to propel your operations toward tomorrow. You won't find a better team of certified pilots, crew members, or technicians capable of reaching remote areas and taking your organization to new heights.
Contact Acuren online or call our team at 1-800-218-7450 to get connected with your representative about our drone inspection services.